Hop-On Hop-Off Oxford
Languages

English, Spanish, French, German, Italian, Japanese, Chinese, Portuguese, Russian, Polish, Kids Commentary
Tickets are valid for 3 months. Travelling later?
Click here
Overview
Home to the oldest University in Britain, Oxford is an architectural marvel. You'll get fantastic views of its honey coloured buildings as well as glimpses of many of its Colleges' courtyards. Let City Sightseeing Oxford introduce you to this vibrant and cultured city. With two fantastic routes, the Red Line with 20 bus stops and the Green Line with 10, you're free to hop on and off at your leisure to make the most of your stay. Join us around Oxford!
Highlights
Access to 1 bus tour route & 20 stops around the city, including all main sights & attractions.
Flexible 3-month ticket.
Audio commentary in 12 languages. Live commentaries in English and English Kids Commentary.
24h/48h Unlimited Hop-on Hop-off bus tour with 360-degree panoramic views of Oxford.
Create your own itinerary to explore Oxford hopping on and off whenever you wish.
Map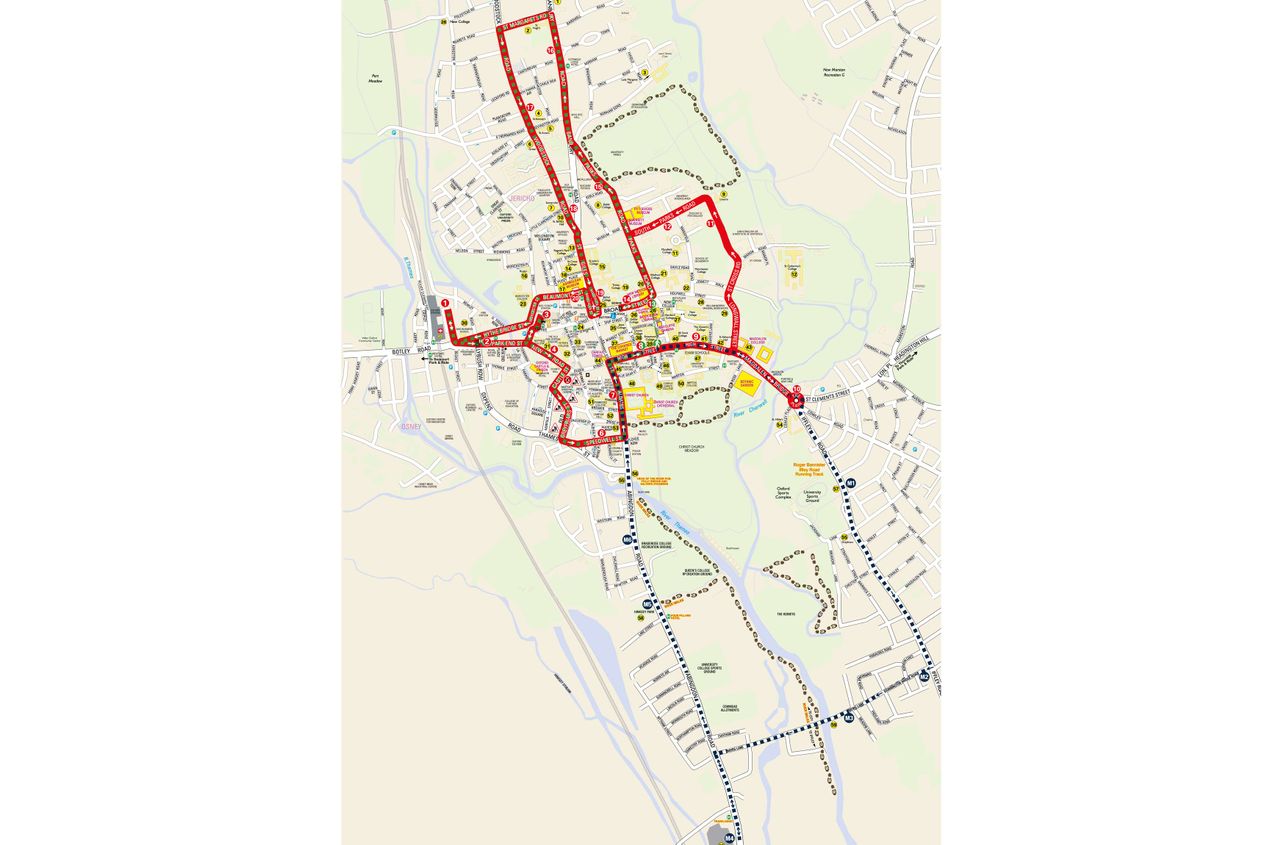 Download
Historic City & University
Schedule: 09:30 - 17:00 Loop: 40 Minutes Frequency: 20 Minutes
3
Gloucester Green Bus Station
5
Westgate Shopping Centre
Meadows & Bridges
Schedule: 09:45 - 17:45 Loop: 20 Minutes Frequency: 20 Minutes
1
Christchurch / St. Aldates
5
Roger Bannister Running Track
8
Redbridge Park and Ride
Additional Information
If you're looking to jump straight into the heritage of Oxford then hop on the Red Line, starting at the Railway Station at Bus Stop 1. We'll take you to Park End Street at Bus Stop 2 where you can hop off, take a stroll and take in the view of the Castle Mill Stream, a hidden treasure of Oxford. Fancy a bit of shopping during your trip? Hop off at the fabulous Westgate Shopping Centre at Bus Stop 5 for a great shopping experience!

The Red Line takes you straight past some of the glorious, old style colleges, some of which date back to the early 14th century. You'll be able to see Brasenose College, The Queen's College and the Trinity College Gates very clearly from up high on our open top buses. We'll also take you straight to the old Sheldonian Theatre at Bus Stop 13, where you can appreciate its stunning English-style architecture.

Why not fully immerse yourself in the English lifestyle and go for afternoon tea after a long day of travelling? We'll take you straight to the famous Browns restaurant right outside Bus Stop 18. If you love nature then change to the Green Line for the ultimate Oxford experience. We'll take you through the picturesque Meadow Lane where you can hop off at Bus Stop 3 and walk to the nearby Redbridge Park and Hinksey Park, the perfect spot for a picnic! Go ahead and start deciding on your personal itinerary around Oxford. Get your ticket online today!
Know before you go
Operational Season: All Year Round
Except on: 25, 26 December, 01 January
First Tour: 09:30 a.m.
Last Tour: 06:00 p.m. (Summer) 04:00 p.m. (Winter)
The Meadows & Bridges route operates from 25 Mar-31 Oct.
Your pre-paid e-voucher can be exchanged for the purchased ticket(s) at our Railway Station Shop in Oxford.
Cancellation policy
All sales are final: tickets cannot be exchanged or money refunded by City Sightseeing.
Supplied by
City Sightseeing Oxford
No 1 Shop, Railway Station, Park End St
OX1 1HS, Oxford, United Kingdom
Included
Cancellation policy
All sales are final: tickets cannot be exchanged or money refunded by City Sightseeing.
Supplied by
City Sightseeing Oxford
No 1 Shop, Railway Station, Park End St
OX1 1HS, Oxford, United Kingdom