Hop-On Hop-Off Alesund
Product not available
Languages

English, Spanish, French, German, Italian, Dutch, Portuguese, Russian
Overview
Book the best way to visit Ålesund with City Sightseeing. Our tour covers a 9-stops route that covers the best viewpoints, architectural landmarks, and the city's cultural and historic corners. City Sightseers get to see it all! The tour operates during Spring/Summer time. When a Cruise arrives at the Cruise Terminal, our brilliant red, double-decker busses will be right at the exit waiting for you to start the tour. Enjoy the unique Art Noveu architectural style of this city from our comfortable panoramic-view busses. Buy your ticket today and combine it with Activities & Attractions to discover the city Museums, monuments, and hidden corners.
Highlights
24h Unlimited Hop-on Hop-off bus tour with 360º panoramic views of Ålesund and its surroundings
Audio-guides available in 8 languages to discover the city's history, architecture & culture
Free Wi-Fi on-board and free booklet with coupons to enjoy discounts in various shops & attractions
1 Bus Tour route with 9 stops, you can create your own itinerary and spend as much time as you wish
Flexible 3-month ticket.
Map, Routes & Stops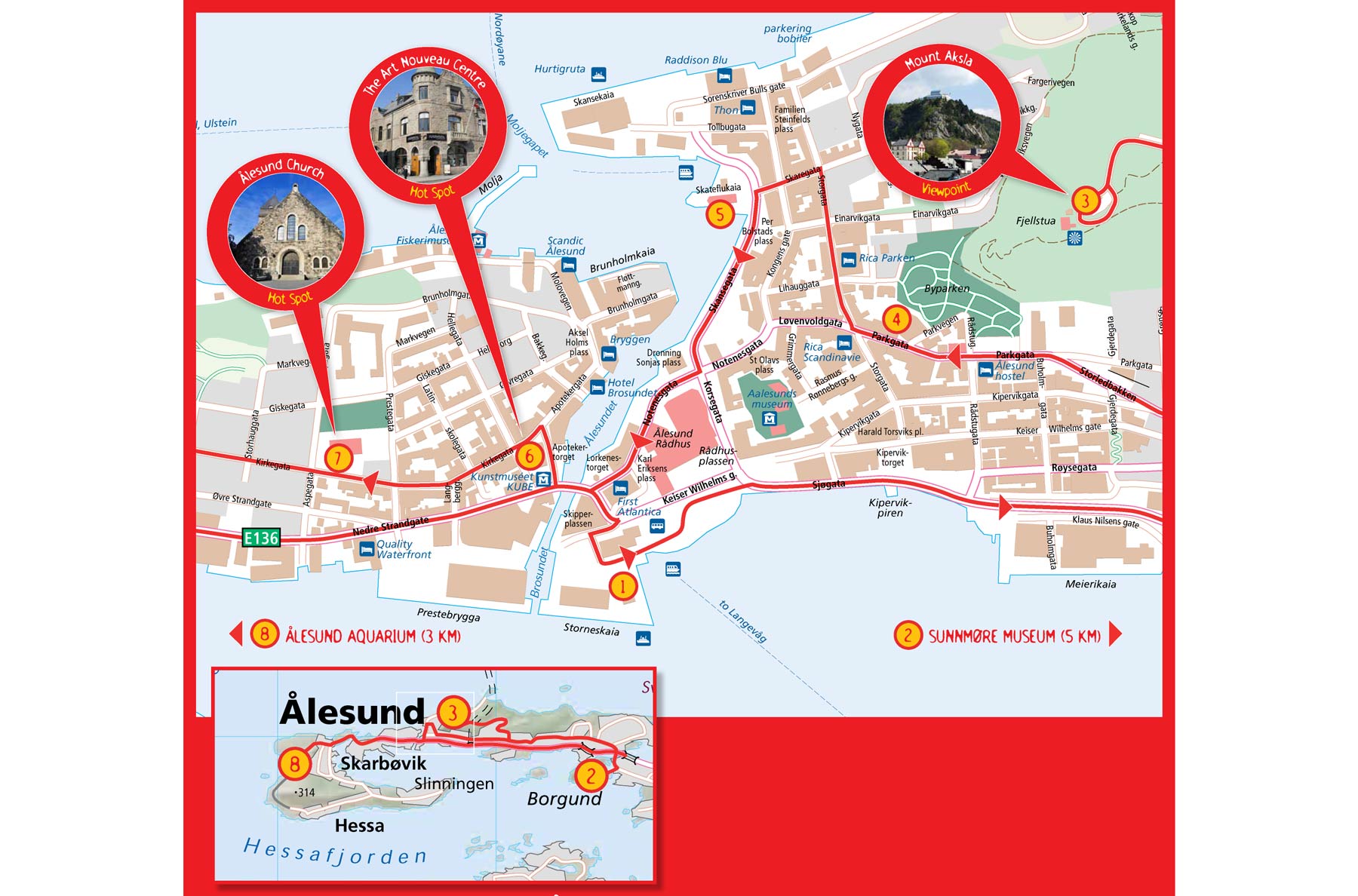 Routes
Additional Information
Right after the first stop at the Cruise Terminal, you will have the chance to Hop-off at Bus Stop 2, the open-air Sunnmøre Museum, with its vast collection of ancient houses and boats. Bus Stop 3 will take your breath away, literally. Hop-off to walk up the stairs to the must-see Fjellstua viewpoint for a stunning view of local fjords and mountains. At the top of the mountain there are walkways that allow you to walk around in natural surroundings while enjoying the view of the islands and mountains around you. If you are not up to climbing all 418-step stairs, even half-way up the view is still beautiful.

And if you want to get some presents for your loved ones back home, Hop-off at Bus Stop 4 to take a stroll around the lots of lovely little shops in the Parken Kulturhus and find the best gifts to take with you. Go on to complete the full loop of the route and City Sightseeing Bus Tour will take you all the way to visit the Art Nouveau Centre (City Centre), Ålesund Church, and Ålesund Aquarium. To top it all, the last stop, Bus Stop 9, is Hessa Viewpoint, located on the island off Hessa, for a final glance at this lovely city.
Know before you go
Operational Season: This tour only operates when a cruise ship is in port.
First Tour: 10:00 a.m.
Last Tour: 04:00 p.m.
Duration: 60 minutes
Frequency: every 30 minutes
Important: The service is not available on May 17, Norway's Founding Day
2017: Tour runs from May-3 to September-14

Cruise Days 2017:
May: 4, 11, 16-18, 20, 21, 26, 29-31
June: 3, 5-8, 10-16, 18-28
July: 1, 4-7, 10-15, 17-18
August: 2-6, 9, 10, 14-17, 20, 22-24, 30, 31
September: 1, 3, 6, 7, 14

Cancellation policy
All sales are final. Tickets cannot be exchanged for other products or money refunded by City Sightseeing Norway.
Included
Value Added Extras: 10% discount at Fjordbuda Souvenirs Gift Shop
Supplied by
STROMMA / OPEN TOP SIGHTSEEING NORWAY A/S
Lindeveien 9, 1470 Lorenskog, Norway
undefined, Bergen, Norway