Hop-On Hop-Off Bus Tour & Boat Trip Malta
schedule add
from
08:00
to
14:30
Highlights
See Valletta's impressive forts from the sea
Discover Malta's fascinating history
Live cruise commentary in English and German
Visit the incredible Blue Grotto
Main Stops
16
Sliema Seafront (Opposite Prelune Hotel)
South Route
22
Vittoriosa Waterfront
South Route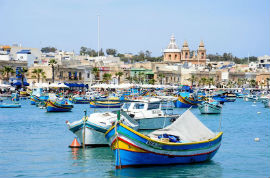 24
Marsaxlokk fishing centre
South Route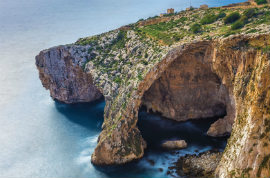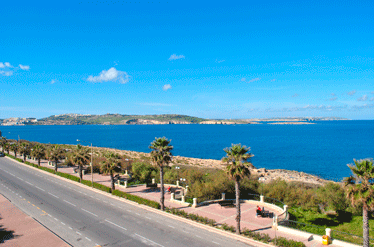 8
Qawra Seafront (Opposite CitySightSeeing Outlet)
North Route
Included
24 or 48-hour Hop-On Hop-Off Bus Tour
24 or 48-hour Hop-On Hop-Off Boat Tours
Stops near all the major sights
Audio guide in 13 languages
Description
Malta might be in the middle of the sea, but it's been inhabited for nearly eight millennia. Almost 8,000 years ago, humans first approached the island from the sea. Just maybe, they landed where Valletta stands today, attracted to the natural harbours that surround the city. Maybe, they sailed on the same waters as our Harbour and Coastal Cruises.


The Harbour boat starts from the Sliema Ferry Terminal and heads towards Manoel Island in Marsamxett Harbour, which is home to the star-shaped Fort Manoel. The island is also home to the Lazzaretto, a 16th-century quarantine hospital that was built in response to a plague outbreak in the city. You can hop off at Esplora to explore Kalkara, a village which is, home to Fort Ricasoli. In recent times, scenes in both Gladiator and Game of Thrones were filmed in the fort. When you're ready hop back on the boat or the bus to head to your next destination.


The Coastal boat takes you from Valletta to Gozo, with several stops along the way, such as the beautiful Blue Lagoon. You can hop on and off as much as you want while your ticket is valid, just like with the Harbour boat. Treat yourself to a trip on the waters of the Med!


To make your stay more complete, your combination ticket also hop-on hop-off use of our two bus routes on the island, the North and the South, so that you can explore the island to your heart's content. With more than 30 stops across all corners of the island, it's the perfect way to get to know this perfect place that little bit better.
Before you Go
PLEASE NOTE Customers must redeem their vouchers at the following location:
Mobile vouchers: Sliema Ferries (stop 17) or Valletta Waterfront Terminus (stop 20)
Paper vouchers: any bus stop
Hop-On Hop-Off Bus Tour
Operational season: all year round
Except on: 25th December
North Route departure times from Stop N1: 08:00, 09:00. 10:00. 11:00, 11:30, 12:30, 13:30, 14:30
South Route departure times from Stop S10: 09:05, 10:05, 11:05, 12:05, 13:05, 14:05
North Route : Every Monday, Wednesday, Friday & Saturday
South Route : Every Tuesday, Thursday & Sunday
Hop-on Hop-off Coastal Route Boat Tour:
Departure/Arrival Point:
S1. Sliema Ferries - 10:00 (DEP), 18:15 (ARR)
S2. Bugibba Jetty - 10:40 (DEP), 17:40 (ARR)
S3. Mgarr Gozo - 11:20 (ARR), 14:00 (ARR/DEP), 17:00 (DEP)
S4. Comino Blue Lagoon - 11:40 (ARR), 13:40 (DEP), 14:20 (ARR), 16:45 (DEP)
Harbour Cruise:
Sliema Ferries Departures - 10:30, 12:30, 14:45

Esplora, Kalkara Departure/Arrivals - 11:40, 13:40, 15:55

Sliema Ferries Arrivals - 12:00, 14:00, 16:15

You can hop on and off both boat and bus as much as you want for the duration of your ticket.

24-Hour Ticket: The Harbour Cruise can be utilised within 3 days from the first scan. 48-Hour Ticket: Harbour Cruise can be utilised within 5 days from the first scan.

The 24-hour ticket is to travel with the blue & red lines.

The 48 hour bus ticket can be used in two separate blocks of 24 hours. From the point that the ticket is first scanned to make use of the first 24 hours, you then have another 5 days to make use of the other 24 hours. The ticket cannot be used throughout the whole 5 days.
Map
Cancellation Policy
Free cancellation up to 24 hours before the chosen travel date.
Supplied by
Captain Morgan Cruises Ltd., Dolphin Court, Tigne Seafront, Sliema