Hop-On Hop-Off Hanover
Languages

English, Spanish, French, German, Italian, Dutch, Japanese, Chinese, Russian, Polish
Tickets are valid for 3 months. Travelling later?
Click here
There are no options available to match the selected date and number of passengers
Overview
Hannover, on the river Leine, is Germany's thirteenth largest city. Hop on board to our open-top buses and relax as we take you to 7 of the best attractions this city has to offer. You'll be able to hop-on and hop-off whenever you want and discover the likes of New Town Hall, the Old Town as well as Hannover's most attractive green spaces.
Highlights
Per each paying adult 2 children (4 - 14 years) free!
Create your own itinerary to explore the city and its popular monuments.
City guide live on board on Saturday mornings.
Audio guide commentaries in 10 languages to learn all about the city's history and culture.
Access to 1 bus tour route & 7 stops around the city covering the entire city & main sights.
24h Unlimited Hop-on Hop-off bus tour with 360-degree panoramic views of Hannover
Map, Routes & Stops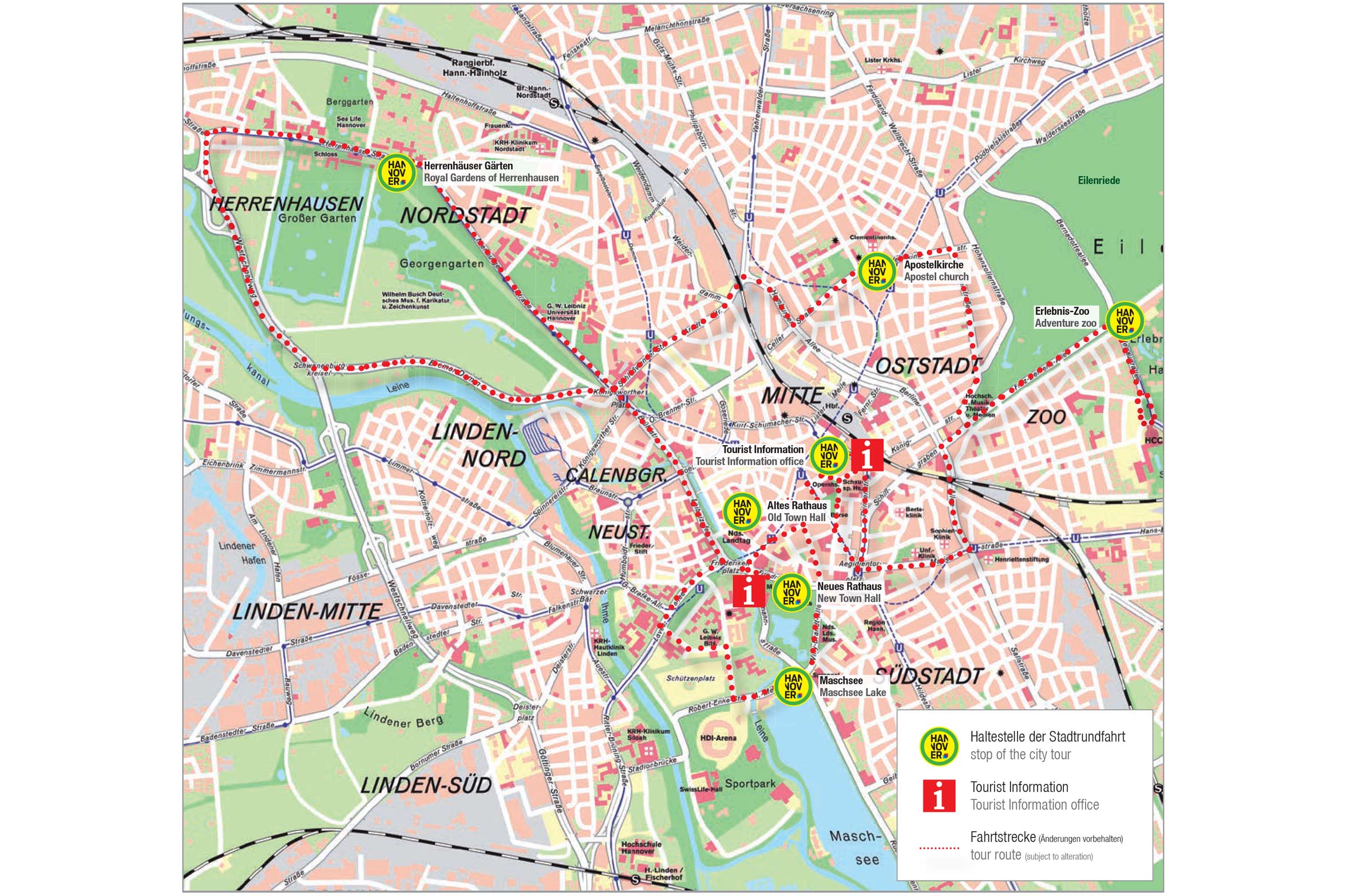 Routes
Additional Information
"Get ready for a journey through Hannover's history as you travel in style on-board our open top buses. The adventure begins just outside of the Tourist Info office. Don't worry about getting lost! You won't miss our double decker buses, they're bright red! Hop-on with your valid ticket and just hop-off at the stops that appeal you! Fancy making some new furry friends? Hop-off at Bus Stop 2 for a great day out at the Adventure zoo. Whether you're visiting with the whole family or just love animals, you're guaranteed to have fun! Next up at Bus Stop 3 is the Apostel Church, also known as the Apostelkirche, a cultural highlight of the city. You'll find one of the most beautiful gardens in Europe, the Royal Gardens of Herrenhausen, at Bus Stop 4. A stroll around the beautiful grounds can't go a miss, and you'll be able see the wonderful views of the surrounding mazes and the waterfall centrepiece. Get a contrast between the modern day Hannover lifestyle and the olden heritage as you'll pass both the New Town Hall and the Old Town Hall from up high on our open-top buses. Buy your ticket online today and start planning your trip!"
Know before you go
Summer: March-November, daily tours.
Winter: November-March, only Fridays & Saturdays
Except on: 24th December
First Tour: 10:30 a.m.
Last Tour: 02:30 p.m.
Duration: 60 minutes
Frequency: every 120 minutes

Cancellation policy
All sales are final: tickets cannot be exchanged or money refunded by City Sightseeing.
Supplied by
Willms Touristik GmbH & Co.KG
Gewerbegebiet Bitzen 2-3
undefined, Stuttgart, Germany