Hop-On Hop-Off Dortmund
Languages

English, Spanish, French, Italian, Dutch, Japanese, Chinese, Russian, Polish, Turkish
Tickets are valid for 3 months. Travelling later?
Click here
There are no options available to match the selected date and number of passengers
Overview
This Dortmund City Tour offers you the unique opportunity to discover every hidden gem of the city where you can hop-off at whatever your bus stop you want! Travel at your own pace around the city, just hop back on to our buses when you're ready! Sit back and relax from the top deck of our red double decker buses and enjoy the panoramic views of Dortmund from up high. A full loop of the trip lasts approximately 100 minutes and there are 12 bus stops along the way, each of which will take you to some of the finest attractions the city has to offer. Listen to the audio commentary available in different languages to learn important facts, influential figures and historical tales from Dortmund's past and present.
Highlights
Per each paying adult 2 children (4 - 14 years) free!
Audio guide commentaries in 10 languages.
24h Unlimited Hop-On Hop-Offbus tour with 360-degree panoramic views of Dortmund.
Access to 1 bus tour route & 12 stops around Dortmund so you don't miss a sight.
Flexible 3-month ticket.
Map, Routes & Stops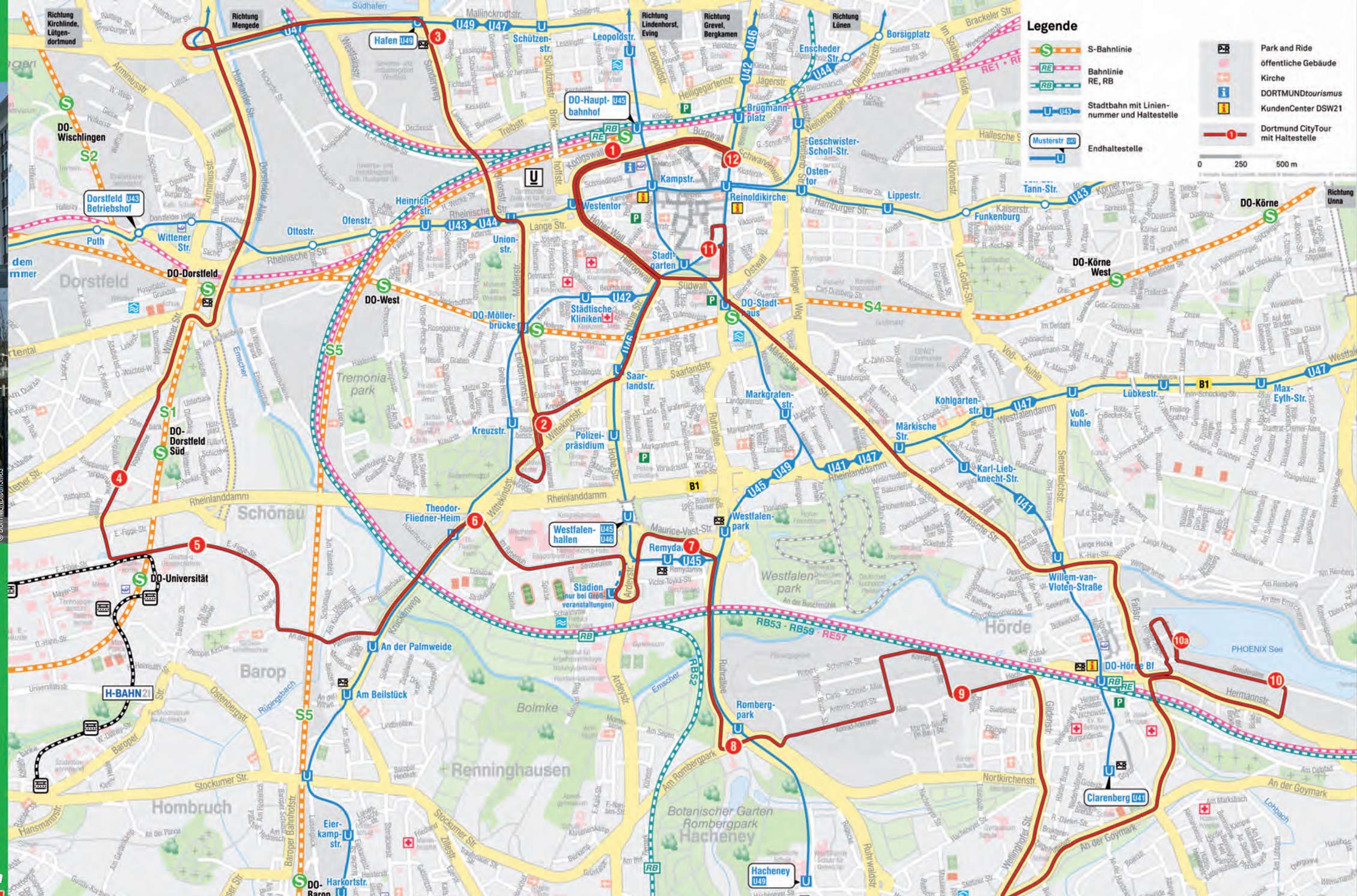 Routes
Additional Information
Are you ready for the ultimate tour of Dortmund? Hop-on to one of our stylish red double decker buses. Climb up to the top deck and we'll start the city adventure! The good news is that at Bus Stop 1, you'll find Dortmund's railway station, so if you're arriving to this fabulous city by train then all you have to do is hop-off the train and wait at our bus stop right outside. We'll pick you up and you can get stuck into the adventure with us, wasting no precious time. At Bus Stop 2, you can explore the Kreuzviertel neighbourhood which is full of colour and life.

There are plenty of shops and restaurants here so hop-off and have a roam around! Hop-off at Bus Stop 4 to visit the DASA museum which is bursting with vibrant colours and collections. You'll get a wonderful look into how technology has advanced and how life has developed in many industries. Or if you prefer exploring nature and the outdoors, the Westfalenpark at Bus Stop 7 is the best place for you. There are so many flowers and beautiful green surroundings, so take a stroll around or sit on a bench and soak up the tranquil energy. Look out for the Floriantum, the Florian tower.

If you're looking for the ultimate dining experience then visit the top of this tower and enjoy a nice meal and the panoramic view of the city. It's very high up so if you're not too keen on heights then maybe give this a miss! What are you waiting for? Book your City Sightseeing Bus Tour online and get ready to enjoy Dortmund!
Know before you go
Tour runs on Wednesday, Friday, Saturday, and Sunday
Cancellation policy
All sales are final: tickets cannot be exchanged or money refunded by City Sightseeing.
Supplied by
Willms Touristik GmbH & Co.KG
Gewerbegebiet Bitzen 2-3
undefined, Stuttgart, Germany