Hop-On Hop-Off Athens
Languages

English, Spanish, French, German, Italian, Dutch, Japanese, Chinese, Portuguese, Russian, Greek, Turkish
Overview
Our City Sightseeing open top, double-decker bus tour of Athens takes around 90 minutes and encompasses central Athens, commencing at Syntagma Square. Tracing the history and culture of Athens from ancient times to the present day, we'll visit 15 of this city's most spectacular attractions and take you on 2 walking and photo tours!
Highlights
72h Hop-on Hop-off Tour Athens & Piraeus & Beach - Riviera (only in Spring & Summer)
24h Unlimited Hop-on Hop-off bus tour with 360-degree panoramic views of Athens' main sights.
Multilingual audio commentary. 12 languages available
2 Free Walking Tours & 2 Free Photo Tours: Acropolis & Athens City Centre.
Access to 1 bus tour route & 15 stops around Athens. Create your own itinerary to explore the city.
Free extra day for your tour when buying the 24h Tour.
Main Stops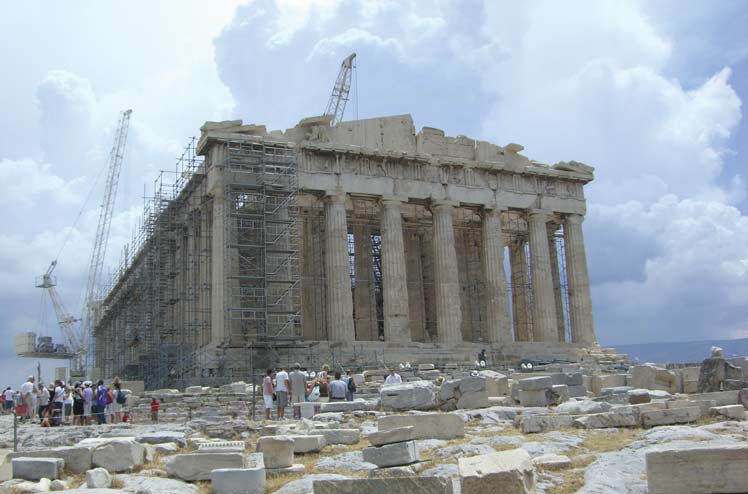 4
The Acropolis & Parthenon
Athens
Map, Routes & Stops
Map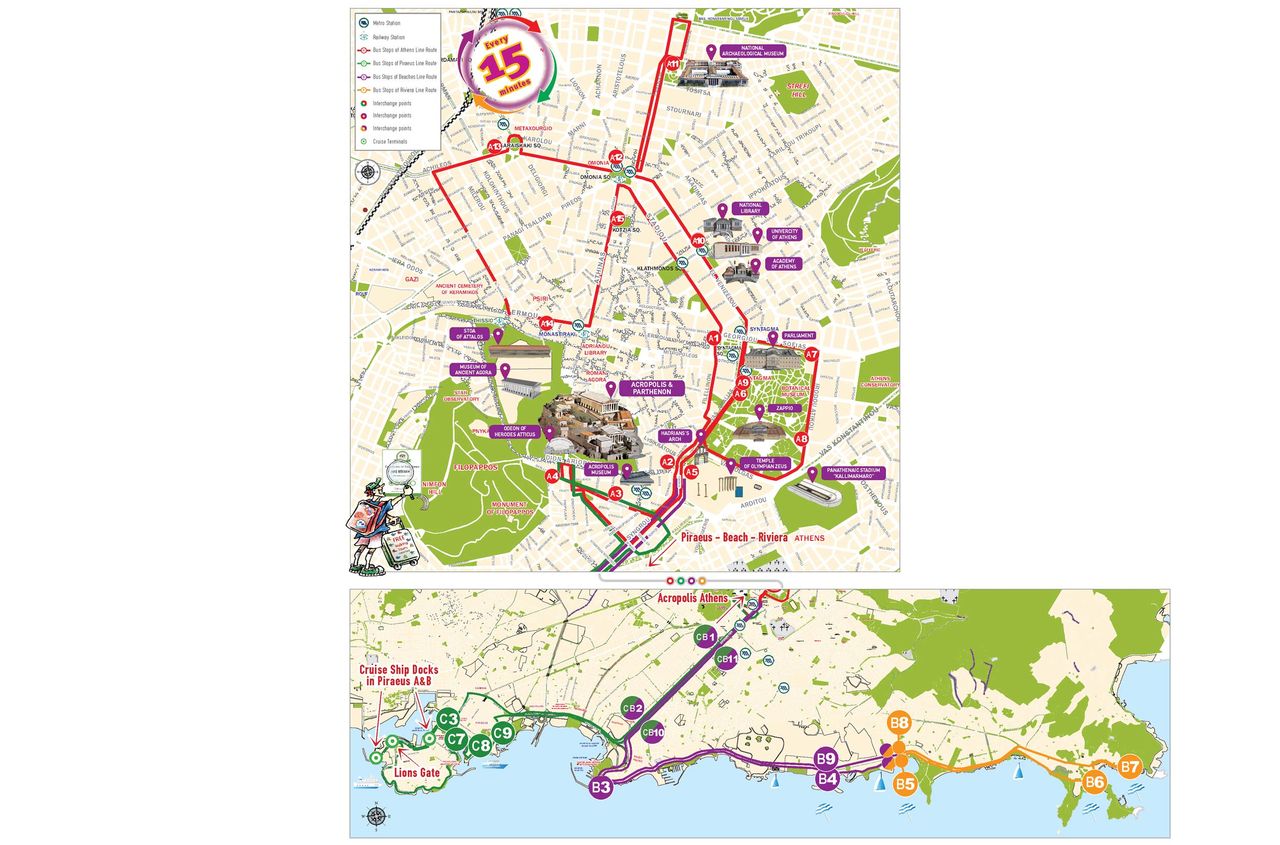 Download
Athens
Schedule: 08:30 - 19:30 Loop: 90 Minutes Frequency: 15 Minutes
4
The Acropolis & Parthenon
7
Benaki & Cycladic Museum
11
National Archaeological Museum
14
Monastiraki / Thession Station
Pireaus
Schedule: 11:15 - 18:15 Loop: 80 Minutes Frequency: 30 Minutes
3
Archaeological Museum of Piraeus
6
Marriott & Intercontinental Hotels
11
Marriott & Intercontinental Hotels
Beach - Riviera
Schedule: 09:00 - 18:00 Loop: 110 Minutes Frequency: 60 Minutes
1
Interchange Athens & Beach-Riviera
7
Kavouri / Oceanis Beach
Additional Information
Soak up the Greek sunshine and explore the sites of Athens at the same time on our open top double-decker buses! We'll start the adventure at Syntagma Square, one of the most famous squares in Athens. Don't worry, you can't miss the eye-popping red colour of our buses. Hop-on and we'll take you straight to café Melina, named after the Greek politician, Melina Mercouri, where you can enjoy some afternoon tea and go for a stroll through the vibrant village of Plaka.

Don't forget to hop-off at Bus Stop 5 to witness the breath-taking beauty of the Temple of Zeus, that began to be fortified in the 5th century. Make sure you hop-off at Bus Stop 6 to see the National Gardens too! Take a stroll through the pretty grounds and be sure to visit the Panathenaic Stadium which hosted the 1896 Olympic Games, and it is located just round the corner at Bus Stop 8.

Pass through the historic treasures, the House of Parliament and the National Library as you make your way to the National Archaeological Museum at Bus Stop 11 to take a trip down memory lane and learn all about the historic tales of this beautiful city.

One destination that you cannot miss is the Kotzia Square at Bus Stop 15. This town is located right in the heart of Athens and is home to many antique stores and little cafés. It even has a waterfall feature which will make for a great photo! Buy you City Sightseeing bus ticket today and start planning your visit to Athens.
Know before you go
Athens & Piraeus Tour: all year round
Beach-Riviera Tour: summer season only
Excluding: 17 November, 25 December, 01 January
Athens Tour: first tour: 08:30; last tour: 19:30; duration: 90 mins
Piraeus Tour: first tour: 11:15; last tour: 18:15; duration: 80 mins
Frequency: 15-30 minutes
Cancellation policy
All sales are final: tickets cannot be exchanged or money refunded by City Sightseeing.
Supplied by
City Sightseeing Greece / SOMACO TOURS, SA
78 Syngrou Avenue, 49 M Botsari, 117 42 Athens
undefined, Athens, Greece
Included
2 Free Photo Tours: 12:30 p.m. from stop A2, 1:15 p.m. from stops A6/9
2 Free Walking Tours: 11:30 a.m. & 12:45 p.m. from Acropolis Bus Stop
Cancellation policy
All sales are final: tickets cannot be exchanged or money refunded by City Sightseeing.
Supplied by
City Sightseeing Greece / SOMACO TOURS, SA
78 Syngrou Avenue, 49 M Botsari, 117 42 Athens
undefined, Athens, Greece