Hop-On Hop-Off New York Ferry Cruises
Tickets are valid for 3 months. Travelling later?
Click here
Overview
Get ready to explore New York City from the waters! Hop on board the City Sightseeing Ferry Tour and have some fun on our 90-minute tour. Our route is jam-packed with stunning views of the NYC skyline and the city's most iconic landmarks! Our tour guide will give you an insight into the Big Apple's history and culture as we pass the Empire State Building, the Statue of Liberty, the Brooklyn Bridge and much more! With 4 convenient hop-off stops along the way, you'll have plenty of opportunities to stretch your legs and explore some of New York City's most unique attractions up close.
Highlights
Ferry Tour to explore NYC from the water (including the Statue of Liberty...)
Professional tour guide narration in English so you can learn all about the history of New York
Easy connections to/from City Sightseeing Hop-On Hop-Off Official New York bus tour
Map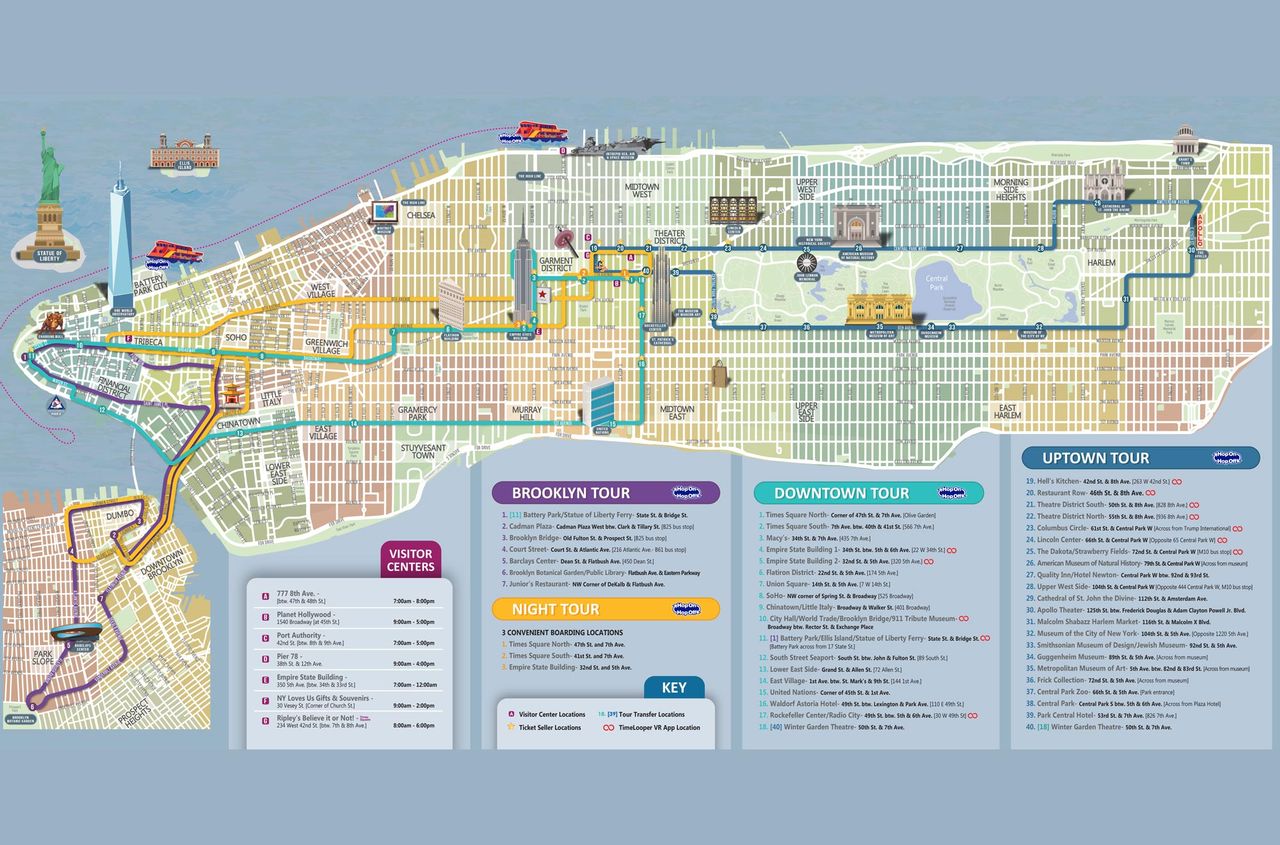 Download
Ferry
Schedule: 10:00 - 16:00 Loop: 90 Minutes Frequency: 120 Minutes
Additional Information
What better way to soak up the panoramic views of New York City's skyline than from within the water on a ferry! Hop on board our City Sightseeing Ferry and get ready for a fun filled day of exploring this beautiful city from a different perspective. Ever wanted to see what the Statue of Liberty was like up close? You'll have the chance on this tour as we take you straight to Ellis Island where you won't believe the size of this spectacular statue when it's right in front of you, it's utterly breath-taking! You'll also get to see the magnificent Empire State Building, the One World Trade Centre and the whole of Manhattan's Skyline up close.

One of the options includes a One World Observatory Ticket where you'll be able to reach the top of the One World Trade Centre and take in the fantastic birds eye of the New York City skyline. It's an experience that you'll never forget, that's for sure! Stretch your legs and hop-off the ferry at our destinations. At Pier 78, take a roam around Midtown Manhattan where you can watch the fast-paced lifestyle go by at Times Square, the central hub of the city. Or if you fancy something a little more peaceful, then take a walk to the Hudson River Greenway Park, the views there are spectacular!

At the World Financial Centre stop, use your included 9/11 Tribute Centre ticket for admission to this eye-opening memorial. At Pier 11, you can go for a stroll around Battery Park, visit Wall Street and even take a visit to the Titanic Memorial Park, there are plenty of things to do here! Lastly, hop-off at Brooklyn Bridge Park where you can grab a bite to eat at the River Café and enjoy the water views at the same time.
Know before you go
Schedule:
Pier 78: 10:00 am, 11:30 am, 1:00 pm, 2:30 pm, 4:00 pm.
World Financial Center: 10:20 am, 11:50 am, 1:20 pm, 2:50 pm, 4:20 pm.
Customers must redeem their tickets at one of the following mid-Manhattan locations
GLCSSNY Visitors Center: 777 8th Avenue, between 47th and 48th Streets.
GLCSSNY VisitorsCenter: Street level entrance of Port Authority Bus Terminal on 42nd Street, just off the corner of8th Avenue
GLCSSNY Visitors Center inside Empire State Building : 350 Fifth Avenue (between 33rd and 34th Streets), ground level.
RAINY DAY GUARANTEE - Sometimes the rain doesn't know that you planned an amazing day of sightseeing on the water, but that shouldn't stop you from exploring New York City. If it is raining, you'll be able be able to use your ferry ticket at any one of the attractions below. Find out more when you check in at our Visitor Center!
Madame Tussaud's New York
Ripleys Believe it or Not!
Metropolitan Museum of Art | The MET
The Museum of Modern Art | MoMA
Museum of the City of New York
New York Historical Society Museum and Library
9/11 Tribute Center
Guggenheim Museum
The Cloisters Museum
American Museum of Natural History
Cancellation policy
All sales are final: tickets cannot be exchanged or money refunded by City Sightseeing.
Supplied by
City Sightseeing New York (Gray Line)
1430 Broadway – Suite 507
10018, New York, United States of America
Included
With Hop-On Hop-Off New York Ferry Cruise + One World Observatory
Access to Ferry Route
One World Observatory Ticket
With New York Sights Pass
Access to Ferry Route
Admission to the One World Observatory Ticket
Admission to the Whitney Museum of American Art
With Hop-On Hop-Off New York Ferry Cruise
Cancellation policy
All sales are final: tickets cannot be exchanged or money refunded by City Sightseeing.
Supplied by
City Sightseeing New York (Gray Line)
1430 Broadway – Suite 507
10018, New York, United States of America