Hop-On Hop-Off New York - Single Routes + Attractions
Languages

English, Spanish, French, German, Italian, Hebrew, Japanese, Chinese, Mandarin Chinese, Korean, Portuguese, Russian
Tickets are valid for 3 months. Travelling later?
Click here
Overview
We've got 3 exciting tour routes and many options for you to choose from, just select the one that looks best for you! Choose the Uptown Tour to discover New York's culture and artistic background or travel on the DownTown tour if you want to do some shopping in the heart of the Big Apple. Don't fancy being in the centre?
Highlights
Add as many attractions to your Hop-On Hop-Off ticket as you wish during the booking process
24h or 1 Day Unlimited Hop-on Hop-off bus tour with 360º panoramic views of NYC with 1 Route.
Create your own itinerary. Access to several routes (to select during booking process)
Tour narration available in 11 different languages to learn all about NYC's history and sights.
Main Stops
2
Times Square South
Downtown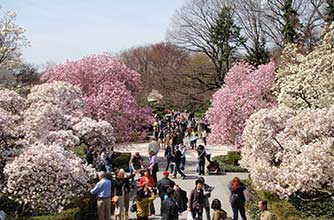 6
Brooklyn Botanical Garden/Public Library
Brooklyn
Map, Routes & Stops
Map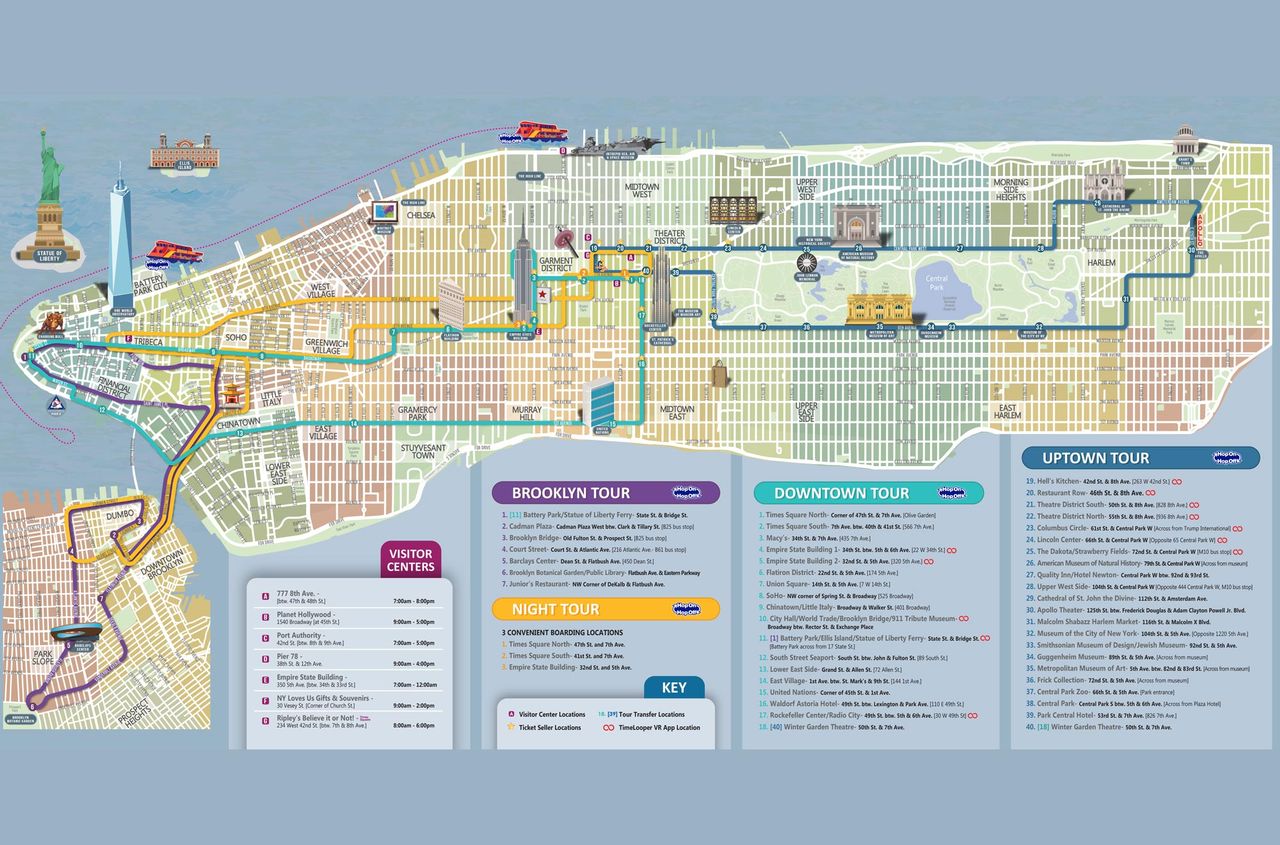 Download
Uptown
Schedule: 09:00 - 17:00 Loop: 120 Minutes Frequency: 30 Minutes
1
Hell's Kitchen (42nd St. & 8th Ave.)
3
Theatre District South (5oth & 8th Ave.)
4
Theatre District North (55th & 8th Av.)
7
The Dakota / Strawberry Fields
8
American Museum of Natural History
11
Cathedral of St. John the Divine
13
Malcom Shabazz Harlem Market
14
Museum of the City of New York
15
Smithsonian Museum of Design/ Jewish Museum
17
Metropolitan Museum of Art
18
Frick Collection/ Whitney Museum
Downtown
Schedule: 08:00 - 18:00 Loop: 150 Minutes Frequency: 25 Minutes
1
Times Square North (57th St. & 7th Ave.)
4
Empire State Building #1
5
Empire State Building #2
9
Chinatown/ Little Italy
10
City Hall/ World Trade Center/ Brooklyn Bridge/ 9/11 Tribute Center
11
Battery Park/ Ellis Island/ Statue of Liberty Ferry/
17
Rockefeller Center/ Radio City Music Hall
18
Winter Garden Theater *
Brooklyn
Schedule: 10:00 - 15:00 Loop: 90 Minutes Frequency: 30 Minutes
1
Brooklyn Bridge / Old Fulton St. & Prospect St.
6
Brooklyn Botanical Garden/Public Library
Additional Information
We've got bus routes for everyone! Choose between our 3 bus routes and you'll be well on the way to discovering all the beauties that New York City has to offer. Travel in style on the Downtown tour as you'll pass the magnificent Times Square, the heart and soul of the city that never sleeps. You'll see New York City's fast paced lifestyle in full swing on the way to some of the best shops, central hubs and attractions! Fancy something a bit more rural? Take the Uptown tour! You'll be able to see great panoramic views of Central Park from way up high on the open top bus. This tour is full of historic landmarks and you'll have the chance to enrich yourself with the heritage at the American Museum of Natural History.

Know before you go
Customers must redeem their tickets for all tours at one of the following mid-Manhattan locations:
GLCSSNY Visitors Center: 777 8th Avenue, between 47th and 48th Streets
GLCSSNY Visitors Center: Street level entrance of Port Authority Bus Terminal on 42nd Street, just off the corner of 8th Avenue
GLCSSNY Redemption Center: 1540 Broadway (between 45th and 46th Streets), at Planet Hollywood/ Buca di Beppo
GLCSSNY Visitors Center in Times Square.: Lobby of Ripley's Believe It or Not, 234 West 42 Street, between 7th and 8th Avenues. (The desk is on the left) Hours of operation daily 8:00 am - 8:00 pm
Cancellation policy
All sales are final: tickets cannot be exchanged or money refunded by City Sightseeing.
Supplied by
City Sightseeing New York (Gray Line)
1430 Broadway – Suite 507
10018, New York, United States of America
Cancellation policy
All sales are final: tickets cannot be exchanged or money refunded by City Sightseeing.
Supplied by
City Sightseeing New York (Gray Line)
1430 Broadway – Suite 507
10018, New York, United States of America