Hop-On Hop-Off Toledo Experience
Languages

English, Spanish, French, German, Italian, Hebrew, Japanese, Chinese, Korean, Portuguese, Russian, Arabic
Overview
Let us do the driving around Toledo as you take in its cultural heritage! City Sightseeing Bus Tour takes you across 10 strategically located bus stops so you don´t miss a corner! And pay attention to our multilingual commentaries as you shot your pictures to learn the secrets of one of the most famous cities in Spain.
Highlights
24h Unlimited Hop-on Hop-off bus tour with 360-degree panoramic views of Toledo's top sights
Create your own itinerary across 10 bus stops in Toledo. Audio commentaries in 12 languages
Flexible 3-month ticket so you can make hop-on the tour whenever you are ready
Choose the combo "Toledo Experience" to add a Walking Tour and tapas at a downtown restaurant.
Choose other combos and tailor your trip. Tickets to the Toledo Cathedral & Museum available online!
Main Stops
2
Puerta Bisagra
Toledo Tour
7
Puente San Martin
Toledo Tour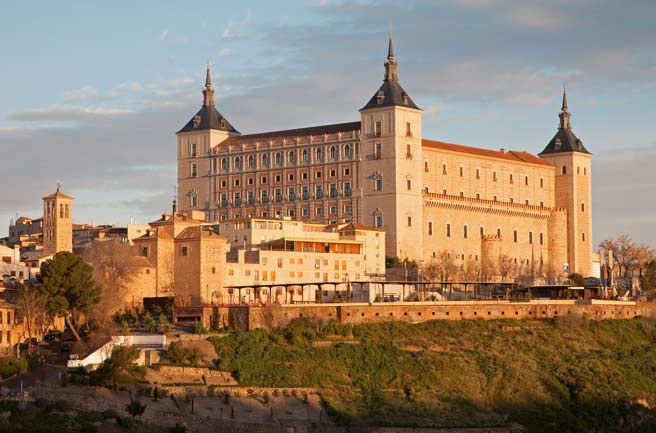 Map, Routes & Stops
Map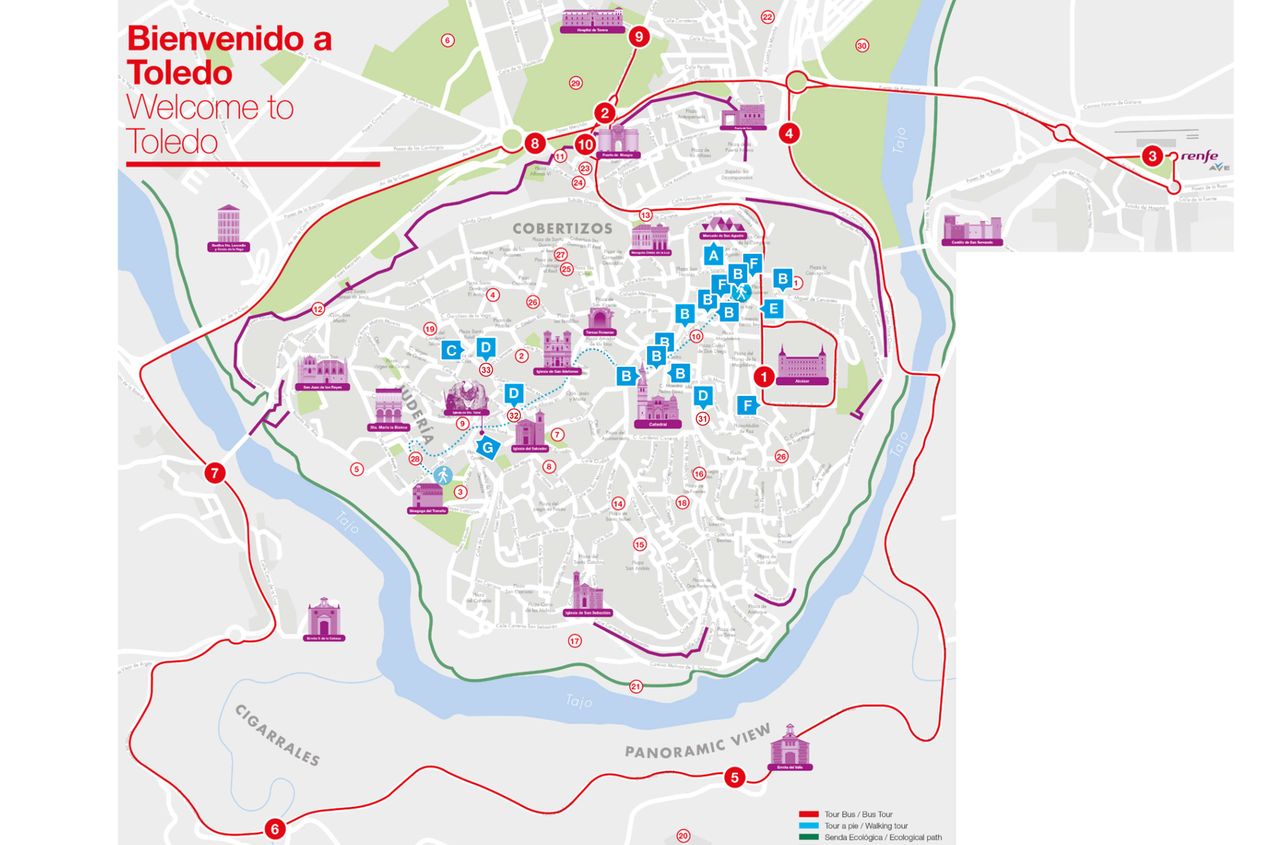 Download
Toledo Tour
Schedule: 09:35 - 20:05 Loop: 50 Minutes Frequency: 30 Minutes
Additional Information
Toledo, embraced by the River Tajo, is one of the most beautiful cities of Spain and the best way to enjoy its sights is by travelling with us on our open top double decker bus! The trip starts at Bus Stop 1 at Alcazár, a spectacular building perched on the highest point of Toledo. Why not hop-off and explore the inside, you'll see views for miles! Next stop is the Puerta Bisagra, also known as the famous Bisagra Gate, which was extended and rebuilt in 1550 by Alonso de Covarrubias.

Enjoy the views from way up high as we travel all the way up to the Mirador del Valle, Bus Stop 5. From this point we'll stop for panoramic pictures, and allow time to admire the city from a privileged point. Next on the agenda at Bus Stop 6 is the Puente San Martín. Hop-off and walk over the bridge and take in the wonderful views that this old town has to offer. Enjoy the breeze and the sunshine from up top whilst we continue the journey to the new part of Toledo, at Reconquista Avenue.

At Bus Stop 7, it's located right next to the Gate of Alfonso VI, also referred as the old Bisagra Gate. Last but not least, the last Bus Stop is at Tavera, where you can explore the Hospital de Tavera, an old Renaissance-style building located right in the city centre and now serves as a museum. Book your ticket online today and start dreaming about Toledo!
Know before you go
Tour runs daily
Cancellation policy
All sales are final: tickets cannot be exchanged or money refunded by City Sightseeing.
Supplied by
City Sightseeing Toledo
City Sightseeing Toledo
undefined, Toledo, Spain
Cancellation policy
All sales are final: tickets cannot be exchanged or money refunded by City Sightseeing.
Supplied by
City Sightseeing Toledo
City Sightseeing Toledo
undefined, Toledo, Spain