Hop-On Hop-Off Palma de Mallorca
Languages

English, Spanish, French, German, Italian, Chinese, Russian, Catalan
Tickets are valid for 3 months. Travelling later?
Click here
Overview
Palma offers a rich mix of history, culture and nightlife. We'll drive you through the fascinating central area, where you'll be able to take in the beauty of the narrowed streets and ancient buildings along the way. Just hop-on at the beginning of the tour at Antoni Maura and get ready to see 18 Bus Stops at remarkable destinations. Hop-off at any of the stops along the route and hop back on at your leisure with your 24/48-hour valid ticket!
Highlights
Create your own itinerary across 18 Bus Stops around Palma de Mallorca
Combine your Hop-On Hop-Off tour with the boat tour to enjoy a complete Palma Experience.
24h Unlimited Hop-On Hop-Off bus tour with 360° panoramic views of Palma de Mallorca top sights
Extend your ticket to 48h and save 25%
Combine the Bus Tour with tickets to sights and attractions and save up to 15%
Main Stops
9
Castell de Bellver
Red Line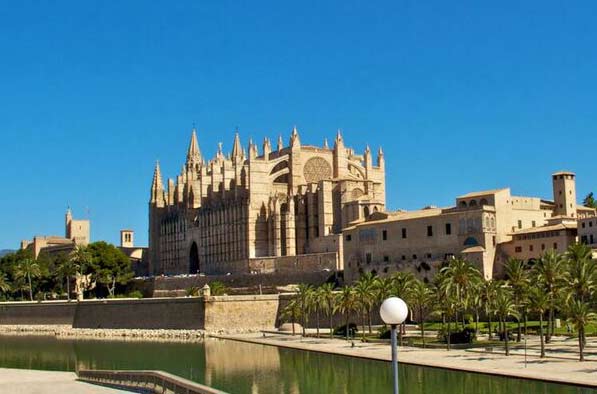 Map, Routes & Stops
Map
Download
Red Line
Schedule: 10:00 - 18:00 Loop: 80 Minutes Frequency: 30 Minutes
6
Av. Gabriel Alomar i Villalonga
12
Fundación Pilar y Joan Miró
Additional Information
Start your adventure at the Avenida de Antoni Maura and we'll take you straight to Plaza del Mercat at Bus Stop 2, where you'll find the famous statue of the Prime Minister, Antonio Maura. Plaza de España is perhaps one of the most beautiful locations in Palma de Mallorca. It's a big square located in the city centre and is enriched with culture and vibrant energy! Surrounded by trees and greenery, you can take a nice long stroll along the grounds. Hop-off at Bus Stop 8 to take in the beauty of the Pueblo Español, a hidden gem of the village where there are many replications of famous buildings from all over Spain.

You'll find the Plaza Mayor nearby which is a big central square with lots of outdoor restaurants for you to tuck in some tasty tapas. If you love art, then the Joan Miró museum is definitely worth a visit, just hop-off at Bus Stop 12. It's surrounded by pretty landmarks and the atmosphere is so idyllic. Right at the end of the bus tour we'll drive you through the Avenida de Juame III, one of the most famous streets of the city, lined up by tall trees and elegant buildings. Book your ticket today and start planning your visit to Palma de Mallorca!
Know before you go
Closed on Mondays: Fundación Pilar y Joan Miró (stops 11 and 12) and Es Baluard (stop 16).
An additional stop at Palacio de Marivent (not on Mondays) has been added to this tour. It's stop number 12b.
Boat Tour (60 mins, May-October), from 11:00 - 16:30 from Escalera Real: A touristic boat tour around Palma Bay, whilst enjoying a selection of drinks and snacks on board.
Bellver Castle (45 mins) *children and senior tickets can only be bought on the bus or in resort: You will take the bus tour for 1.2 hours followed by a visit to Bellver Castle.

For the Sensation Tour: You will need to confirm your transfer at least 12 hours in advance.
Pick up times:
8:10: Hotel Playa Daurada
8:15: Restaurante Chino/Mini Tren (Sultan, Farrutx, Gran Playa, Santa Fe, Picafort Beach, DunesPlatja)
8:20 Nordeste (Hotel Nordeste)
8:20 Oficina Thomas Cook (Gran Bahia, Miramar)
8:25 Exagon(Hotel Exagon)
8:30 Hotel Concord (Vista Park, Concord, Janeiro, Son Baulo, Sarah, Bonsai)
8:30 Rotonda Vell Mari (Hotel Vell Mari)
8:35 Parada bús/mini tren/ tabacos (Tonga, Markus)
8:35 Africamar/ PizzeriaVinicius (Gran Vista, Montecarlo)
8:45 Supermarket/ Shopping Center (Alcudia Pins, Albufera Playa, Albufera Park)
8:45 Playa Garden (Hotel Playa Garden)
8:50 Natura Playa (Hotel Natura Playa, Park Natural, Palace de Muro)
8:50 Rotonda Playa Esperanza (Mar Playa de Muro, Iberostar Muro Village, Princehotel La Dorada, Playa Esperanza, Esperanza Park)
8:55 HotelIberostar Playa de Muro (Iberostar Playa de Muro)
9:00 Las Gaviotas (Alcudi Mar, Principes, Alcudia Park, Continental, Amapola)
9:05 ReiMediterrani (Hotel ReiMediterrani, Lagotel, Holiday Garden)

9:10 Eden Alcudia (Eden Alcudia, Lago Park, Maritimo, Condesa de la Bahia)
9:15 Boccacio (Hotel Boccacio, Ciudad Blanca, Sol Alcudia)
9:15 Picadilly Bar (Bellevue)

9:20 Temple Bar (Piscis, Viva Zafiro)

9:20 Bahia de Alcudia (Condes de Alcudia, Alcudia Garden, Bahia de Alcudia)
9:20 Restaurante 35/parada bus (Hotel President)

9:30 Pollenca Club Resort
9:30 Romantik (Pollenca Park Fergus Style)

9:40 Hotel Simar

Cancellation policy
All sales are final: tickets cannot be exchanged or money refunded by City Sightseeing.
Supplied by
City Sightseeing Mallorca
Paseo Maritimo 16, 4-3
07014, Palma de Mallorca, Spain
Not Included
Sensation Tour - However this is bookable in resort
Cancellation policy
All sales are final: tickets cannot be exchanged or money refunded by City Sightseeing.
Supplied by
City Sightseeing Mallorca
Paseo Maritimo 16, 4-3
07014, Palma de Mallorca, Spain