There are no options available to match the selected date and number of passengers
Overview
City Sightseeing will take you to see many iconic landmarks across 9 selected bus stops riding our double-decker buses. Enjoy the view from the open-top deck as we drive you pass Alcazar - the 11th century Moorish fortress that has now been partially restored, the church of San Miguel, and the cloisters of Santo Domingo. Hop-on and Hop-off our exclusive red buses as much as you like and make the most out of your stay in Jerez!
Highlights
1 Free Walking Tours around Jerez city centre & some of the most popular neighbourhoods
24h Unlimited Hop-on Hop-off Bus Tour offering 360-degree panoramic views of Jerez top sights
Create your own itinerary across 9 stops in Jerez. Audio commentary available in 16 languages
Free Coupon Booklet featuring discounted tickets to Horse shows and the Hammam Andalusi Arab Baths
Flexible 3-month ticket
Map, Routes & Stops
All Routes
Jerez City Tour
Schedule: - Loop: Minutes Frequency: Minutes
Main Stops
Real Escuela Del Arte Ecuestre
BUS STOP 8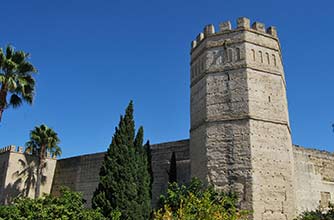 Plaza del Arenal
BUS STOP 1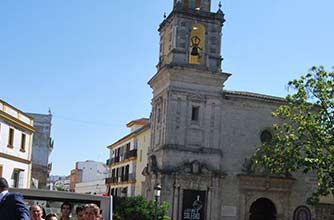 Alameda Cristina
BUS STOP 6
Additional Information
City Sightseeing Bus Tour takes you to explore Jerez across 9 selected bus stops that ensure you get the most out of your 24h ticket. Get to know the city's history, culture, and urban life. Hop-on at Plaza del Arenal and enjoy the view as you pass by the Jerez Cathedral. If you are a history lover, you will enjoy a visit to the Museo Arqueológico de Jerez, an archaeological museum featuring collections donated by the wealthiest locals.

If you miss those times in which we used to wear watches, hop-off at Bus Stop 4 to get to see a remarkable collection of vintage clocks and watches at the Palacio del Tiempo (The Palace of Time). Hop back on and enjoy the ride with your camera ready! City Sightseeing City Tour takes you across the Alameda Cristina, Plaza Santiago, Pizarro Street, and The Royal Andalusian School of Equestrian Art, another hot spot if you like horses! Join us across Jerez. Book your ticket online today and start planning your itinerary!
Know before you go
Walking tour: 1:30 pm from Plaza del Arenal
Operational Season: All Year Round
Except on: N/A
First Tour: 10:00 a.m.
Last Tour: 06:00 p.m.
Cancellation policy
All sales are final: tickets cannot be exchanged or money refunded by City Sightseeing.
Included
Free Guided walking tour
33% off in Yeguada la Cartuja visit and Horse shows
10% off in Hammam Andalusi Arab Baths
Supplied by
Ute City Sightseeing Espana SL - SIGHTSEEING BUSES SL
Avda. Del Puerto 1 - 5og
11006, Jerez, Spain
Tickets are valid for 3 months. Travelling later?
Click here