warning
Stop 3 is currently out of service, but the Agia Sofia Church is within walking distance of stop 6.
Highlights
Hop on and off the bus at any of the stops along the route
Multilingual audio guide: discover interesting facts about the city and its monuments
Bus stops located near to the top attractions in Thessaloniki
E-vouchers accepted: show your ticket on your smartphone and hop straight on the city tour
A full day trip to the astonishing mountain-top monasteries at Meteora
Main Stops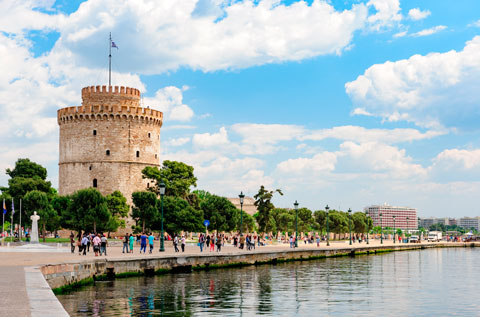 1
Lefkós Pýrgos (White Tower of Thessaloniki)
Red Route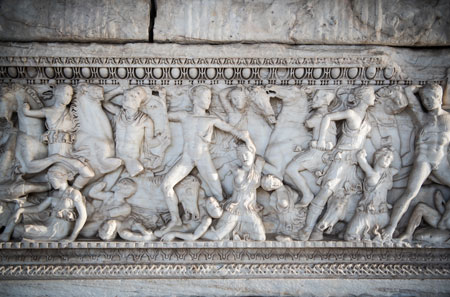 2
Archaeological Museum
Red Route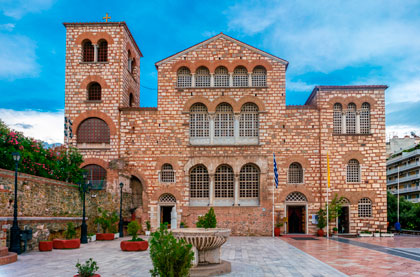 4
Church of Agios Dimitrios
Red Route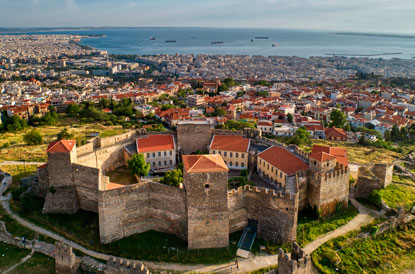 5
Ano Poli (Upper Town)
Red Route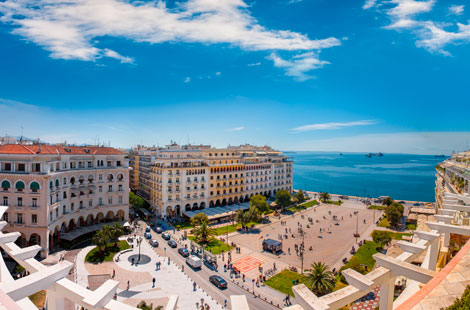 9
Port of Thessaloniki
Red Route
Included
1-day hop-on hop-off bus tour
Stops near the major sights
Audio guide in 12 languages
Full hygiene measures
1-day tour to the incredible monasteries of Meteora
Description
Meteora: you have to see it to believe it. Six monasteries dramatically perched on top of impossibly spindly rocky outcrops. Nature lovers and culture buffs alike will be entranced. Inaccessible by car, you need to join a tour to get to this wonder. You'll be glad you did as you get the lowdown on the history of these "columns of the sky" from our knowledgeable guides. This instagrammable area is perfect for honing your budding photography skills. Its beauty will strike you with the full force of a meteor!

Your handy combination ticket includes a full day trip to Meteora where you will see all six stunning monasteries, and even get to visit two of them! Add to this a stop in the picturesque town of Kastraki, nestled snugly in the rocky mountains of Meteora. You'll be able to pick up some souvenirs and try out some mouth-watering mezze and invigorating ouzo in a traditional taverna. During this fascinating day trip, you will be transported directly to all destinations in a comfortable bus, so all you have to do is sit back and enjoy the ride!

Remember that this great-value ticket also includes 24 hours on our hop-on hop-off Thessaloniki bus. Hop off right next to Thessaloniki's number one destination: the ancient White Tower. It houses a fascinating museum, and you can enjoy spectacular vistas of the coastline from the lookout at the top.

Drag yourself away from the incredible coast and take a short stroll inland to the Archaeological Museum of Thessaloniki, one of the oldest museums in Greece, to marvel at ancient artefacts from the region. Hop on our comfortable bus and discover the enormous and impressive church of Agios Dimitrios. Our fascinating audio guide will give you the lowdown on the local culture and history and make sure it's not all Greek to you!

Ano Poli is one of Thessaloniki's must-see sights. Hop on our big red bus to save yourself a walk up the hill. Traverse steep cobbled streets, admire stunning views of the city and its coastline and treat yourself to some tasty treats at a taverna

You'll get to know Thessaloniki and so much more of Greece with this perfect package. Book today!
Before you Go
Hop-On Hop-Off Bus Tour:
Tours run all year, except on local/national holidays
Your bus ticket must be used within 7 days either side of the date of your tour ticket.
Meteora Day-Trip:
Tours run every Monday, Wednesday and Friday from May 11th until October 31st.
The tour starts at 8:00 with departures from Lefkos Pyrgos (the White Tower) and returns at approximately 19:00. IMPORTANT: Tour tickets must be used on the day you select when you book your tour.
Map
Cancellation Policy
Free cancellation up to 24 hours before the chosen travel date.
Supplied by
City Sightseeing Thessaloniki
N. TSOKAS & SIA E.E., 279 Mesogeion Ave