warning
Stop 3 is currently out of service, but the Agia Sofia Church is within walking distance of stop 6.
Highlights
Hop on and off the bus at any of the stops along the route
Multilingual audio guide: discover interesting facts about the city and its monuments
Bus stops located near to the top attractions in Thessaloniki
E-vouchers accepted: show your ticket on your smartphone and hop straight on the city tour
A full day trip to the beautiful thermal pools at Loutra Pozar and the waterfall park of Edessa
Main Stops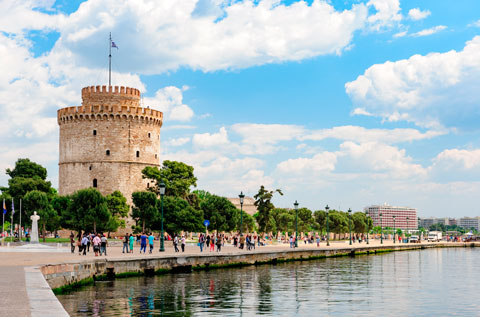 1
Lefkós Pýrgos (White Tower of Thessaloniki)
Red Route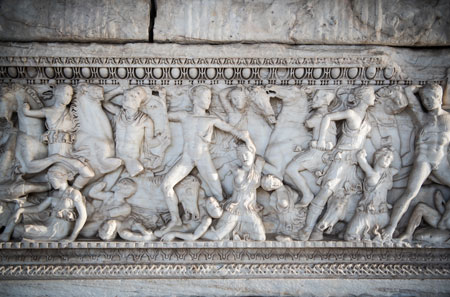 2
Archaeological Museum
Red Route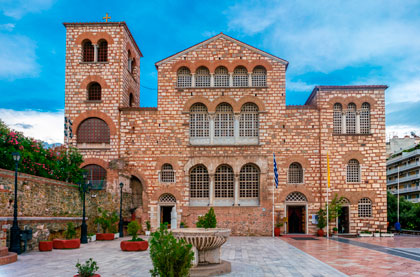 4
Church of Agios Dimitrios
Red Route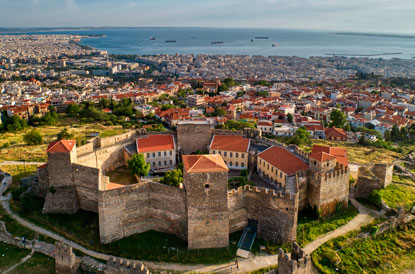 5
Ano Poli (Upper Town)
Red Route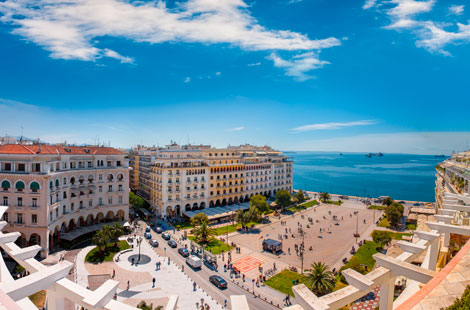 9
Port of Thessaloniki
Red Route
Included
1-day hop-on hop-off bus tour
Stops near the major sights
Audio guide in 12 languages
Full hygiene measures
1-day tour to the warm thermal pools of Loutra Pozar
Description
Fancy discovering a hidden gem, frequented mostly by locals? Included in your brilliant-value combination ticket is a full day trip to the naturally occurring thermal baths at Loutra Pozar. You can lounge in large pools of warm water, have your aching shoulders massaged under a waterfall and plunge into an icy cold, invigorating natural stream.

As if this wasn't enough water, you will stop off in the spectacular town of Edessa surrounded by twelve waterfalls. The most famous of all, Keranos, is smack bang in the centre of town and reaches an impressive 70 metres! You will be able to explore Varosi the old part of the city, where you can see some splendid Macedonian architecture in the pretty town. You'll even visit the open-air water museum, housed in an old water mill. Fancy trying assembling a plumbing system? Well, now's your chance! There are also flour and sesame mills - we bet you've never seen tahini being ground before! This action-packed full day trip is all included in your ticket.

Back in Thessaloniki, don't forget you have a 24-hour hop-on hop-off bus ticket to explore the city! And there is so much to see. If you visit one ancient monument in Thessaloniki, let it be the emblematic White Tower. During the period of Ottoman rule, it went by the Red Tower due to its reputation as a bloody, barbaric prison. It finally received its current name at the end of the 19th century. Admire panoramic views of the impressive coastline and feel the cool sea breeze from the top of our double decker bus.

Hop on for a lift up the hill to Ano Poli, perched high above the main town. It stands proud as one of the few areas that survived the great fire of 1917 when two thirds of the city was razed to the ground in under two days. Ano Poli has retained its old-world charm. It's a place to get lost in the labyrinth of cobbled streets and stop at a traditional taverna. Why not treat yourself to bougatsa, a deliciously crispy, creamy, golden pastry, and the pride of Thessaloniki? We dare you to stop after just one!

Discover the beauty of this area with City Sightseeing!
Before you Go
Hop-On Hop-Off Bus Tour:
Tours run all year, except on local/national holidays
Your bus ticket must be used within 7 days either side of the date of your tour ticket.
Loutra Pozar - Edessa Day-Trip:
Tours run every Tuesday, Thursday and Sunday from May 10th until October 31st.
The tour starts at 8:00 with departures from Lefkos Pyrgos (the White Tower) and returns at approximately 17:00.
IMPORTANT: Tour tickets must be used on the day you select when you book your tour.
Map
Cancellation Policy
Free cancellation up to 24 hours before the chosen travel date.
Supplied by
City Sightseeing Thessaloniki
N. TSOKAS & SIA E.E., 279 Mesogeion Ave