Playa Blanca by Boat + Hop-On Hop-Off Cartagena
warning
Please note that tours are suspended until further notice.
schedule add
from
09:00
to
19:30
Highlights
Explore all Cartegena has to offer, from the Old Town to the modern Bocagrande district
Day trip to Playa Blanca beach, with a traditional Columbian lunch included
Enjoy views of Cartagena's bay and visit San Martin de Pajarales Island
Unlimited access to the Hop-On Hop-Off Bus for 2 days
Enjoy panoramic 360 degree views from our red double-decker buses
Discover Cartagena's Walled City with a guide on a free walking tour
Travel from Cartagena to Playa Blanca by speedboat
Relax on the white sands of Colombia's Carribean coast
Main Stops
1
Muelle de la Bodeguita
Red Route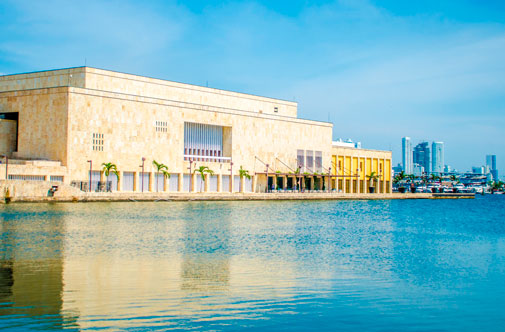 2
Centro de Convenciones
Red Route
3
San Sebastián del Pastelillo
Red Route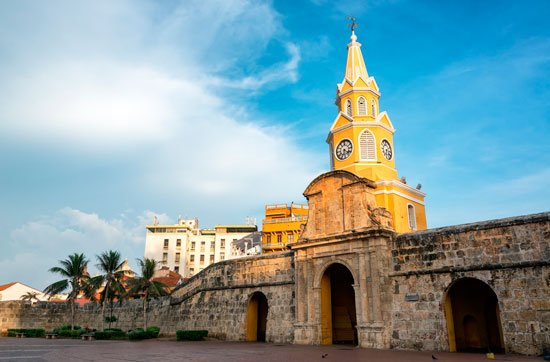 4
Torre del Reloj
Red Route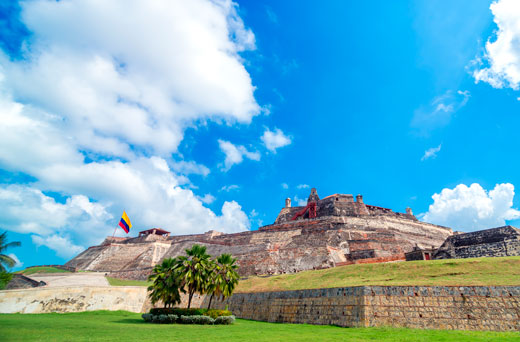 5
Castillo de San Felipe de Barajas
Red Route
Included
2-day Hop-On Hop-Off Bus Tour
Guided walking tour
Day trip to Playa Blanca by boat, including lunch (advance reservation required)
Boarding tax at Bodeguita Pier (approx. 5 USD per person)
Additional activities on the Playa Blanca day trip (Oceanarium, snorkeling etc.)
Description
Once the main trading port between Spain and its colonies in South America, Cartagena is a historic city with a rich history featuring pirates, slaves, historic naval battles and sunken treasure. Its Old Town, surrounded by 13km of colonial defensive walls, is fantastically well-preserved, and cobblestoned streets intersect shady plazas. Hop off to explore this stunning part of the city, designated a UNESCO World Heritage Site. Be sure to check out the Clock Tower (Torre del Reloj) and Castillo de San Felipe de Barajas, which commands stunning views over the entire city. Hop back on the bus and explore the contrasting modern district of Bocagrande, with its shopping centres, casinos and popular nightlife scene. Your 2-day ticket gives you the freedom to explore Cartagena at your own pace, as you can hop off the bus whenever something catches your eye, then hop back on to explore something else.

Also included with this combination ticket is a day trip to Playa Blanca Beach, aptly named after its beautiful white sands. Departing from central Cartagena on a speedboat, you'll be given a tour around Cartagena's bay where you'll see the 15-metre-tall Sailor's Virgin statue and the Bocachica fortress. Heading out into the Caribbean Sea you'll pass the Rosario Islands Archipelago before stopping at San Martin de Pajarales Island. Here you can visit the Oceanarium and see a dolphin show, or go snorkeling and discover the marine life. Finally, you'll head to Playa Blanca Beach, close to where the Spanish galleon San José sank in 1708 with a cargo of treasure worth an estimated US$ 17 billion in today's market! Relax on the white sand beach and enjoy an authentic Colombian lunch and swim in the turquoise waters before heading back to Cartagena in the afternoon.
Before you Go
Playa Blanca Beach
Please note: advance reservation is required; after making your booking you will be required to confirm the date of the day trip (instructions for making the reservation are included on the voucher that will be sent to you after purchasing the tickets)
Duration: approximately 7 hours
Guided Walking Tour
Meeting point: bus stop 4, Torre del Reloj, at 4:00 p.m.
Duration: 90 minutes
Tour available in English and Spanish
Availability
See all availability on the calendar.
Map
Cancellation Policy
All sales are final: tickets cannot be exchanged or money refunded by City Sightseeing.
Supplied by
City Sightseeing Cartagena
International Tourism Group DBA, Av. San Martin No 6 - 50 Local 3