Bora Bora Beach Club + Hop-On Hop-Off Cartagena
warning
Please note that tours are suspended until further notice.
schedule add
from
09:00
to
19:30
Highlights
See other islands and historic castles on the boat ride out to Bora Bora Beach Club
Unwind on a private beach bed, enjoy a cocktail and eat a delicious, freshly prepared lunch
Spend a day relaxing at the Bora Bora Beach Club, located on a tropical island
Discover the historic walled city, and the contrasting modern neighbourhood of Bocagrande
Walking tour of the historic centre with a guide
Hop on and off as many times as you like & explore the wonderful attractions Cartagena has to offer
2 days' access to the Hop-On Hop-Off Bus tour with panoramic 360 degree views
Main Stops
1
Muelle de la Bodeguita
Red Route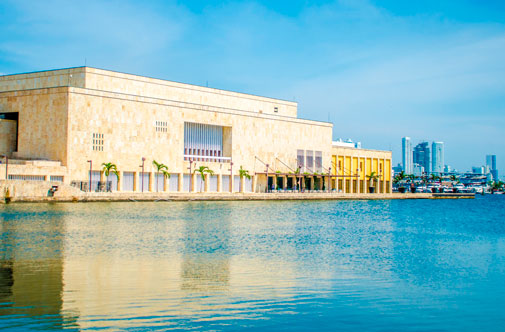 2
Centro de Convenciones
Red Route
3
San Sebastián del Pastelillo
Red Route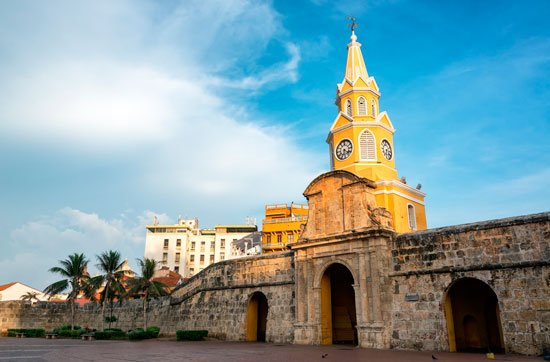 4
Torre del Reloj
Red Route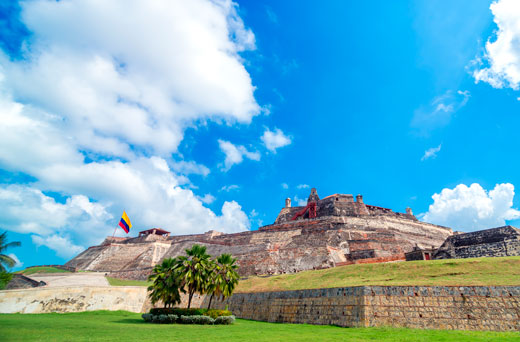 5
Castillo de San Felipe de Barajas
Red Route
Included
Day trip by boat to Bora Bora Beach Club, including lunch
2-day Hop-On Hop-Off Bus Tour
Guided walking tour
Boarding tax at Bodeguita Pier (approx. 5 USD per person)
Additional activities on the day trip to Bora Bora Beach Club (Oceanarium, snorkeling etc.)
Description
From the nearly-500-year-old Old Town surrounded by defensive walls, to the modern district of Bocagrande where the best restaurants and nightlife can be found, Cartagena offers so much to see and do. With your 2-day bus tour you will have the freedom to hop on and off as many times as you like.

Hop off and explore the colossal Castillo de San Felipe de Barajas, the largest Spanish colonial fortification on mainland South America. Built to protect Cartagena against attacks from pirates and enemy invasions, the fort sits atop a hill and commands spectacular views of Cartagena. If you're looking for a more modern twist, hop off in the Bocagrande district and explore the beaches, shop to your hearts content at the Centro Comercial Plaza Bocagrande or try your luck at the Casino Río.

Also included with this City Sightseeing combination ticket is a day trip to the Bora Bora Beach Club. Departing from the Muelle de la Bodeguita in the centre of Cartagena, you'll enjoy a speedboat ride out to the club. Along the way a guide will show you points of interest like Bocachica fortress, Tierra Bomba island and the Rosario Islands Archipelago Natural Park. Upon arrival at Bora Bora Beach Club you'll be greeted by friendly staff and shown to a beach bed. Spend the day relaxing, listening to a DJ playing chill-out music, go for a swim or choose from a number of additional activities available to purchase. After enjoying a freshly prepared lunch, you'll head back to Cartagena.
Before you Go
Bora Bora Beach Club
Please note: advance reservation is required; after making your booking you will be required to confirm the date of the day trip (instructions for making the reservation are included on the voucher that will be sent to you after purchasing the tickets)
Duration: approximately 7 hours
Guided Walking Tour
Meeting point: bus stop 4, Torre del Reloj, at 4:00 p.m.
Duration: 90 minutes
Tour available in English and Spanish
Availability
See all availability on the calendar.
Map
Cancellation Policy
All sales are final: tickets cannot be exchanged or money refunded by City Sightseeing.
Supplied by
City Sightseeing Cartagena
International Tourism Group DBA, Av. San Martin No 6 - 50 Local 3