close
warning
Please note that tours are suspended until further notice.
Highlights
2 days to explore: see everything from the historic walled city to modern Bocagrande on a city tour
Join a walking tour and let an expert local guide show you the historic centre
Multilingual audio commentary on the open-top bus: learn interesting facts about Cartagena de Indias
Hop on and off the City Sightseeing bus at the various stops and discover the port city of Cartagena
Visit one of the most famous landmarks: the massive fortress of Castillo de San Felipe de Barajas
Main Stops
1
Muelle de la Bodeguita
Red Route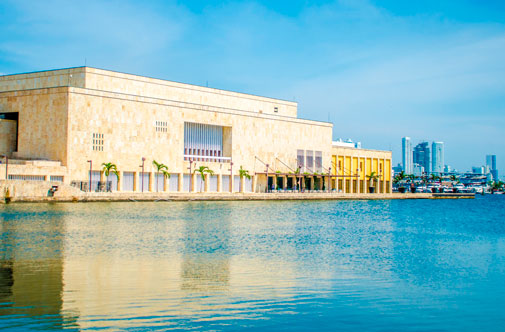 2
Centro de Convenciones
Red Route
3
San Sebastián del Pastelillo
Red Route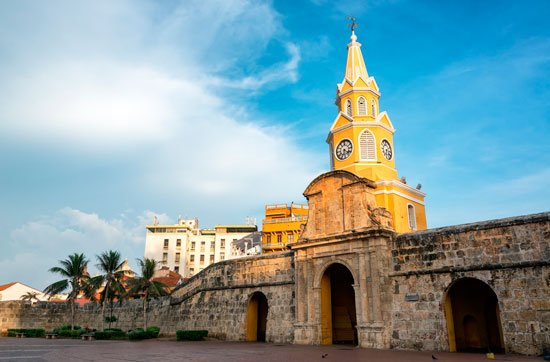 4
Torre del Reloj
Red Route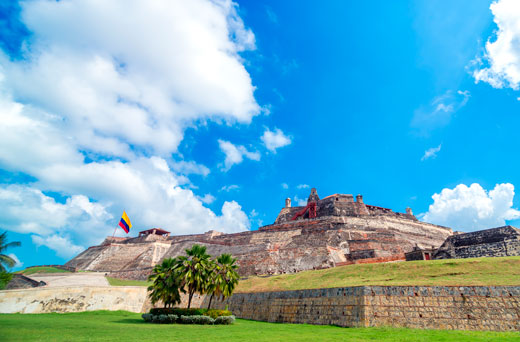 5
Castillo de San Felipe de Barajas
Red Route
Included
Admission to Castillo de San Felipe de Barajas
2-day Hop-On Hop-Off Bus Tour
Guided walking tour
Description
Three-hundred years ago Cartagena de Indias was the main port for the Spanish colonies of Central and South America. The treasures of the Americas flowed through here en route to Europe and the spectacular old town was built with the profits accrued from this transatlantic trade. Hop off the City Sightseeing bus at the Torre del Reloj, which stands over the main gate to the walled old town. Pass through the ancient arches and wander through the colonial streets of the city's near five-century-old historic centre.

Hop off at the grandest and most impressive colonial fort the Spanish ever constructed: Castillo de San Felipe de Barajas. Even Francis Drake who tried to take the city on the orders of Queen Elizabeth I failed to take the fortress. Your City Sightseeing combination ticket includes admission to the castle, so you'll get to tread where Drake never could! Plus, with your audio guide, you'll learn all about the history of this iconic monument.

Another great place to hop off our tourist bus is the Casa Museo Rafael Núñez, named after the 19th-century president of Colombia and poet who lived in the beautiful colonial mansion that today houses the museum. Then replace colonial architecture with towering skyscrapers as you head to modern Bocagrande on the City Sightseeing bus. This neighbourhood is home to the Centro Comercial Plaza Bocagrande so if you're in the mood for a spot of shopping, then this is the perfect destination for you.
Before you Go
Guided Walking Tour
Meeting point: bus stop 4, Torre del Reloj, at 4:00 p.m.

Duration: 90 minutes

Tour available in English and Spanish
Please complete the following form before you travel: Covid Personal Information Form

Castillo de San Felipe de Barajas
Opening times: daily from 8:00 a.m. to 5:00 p.m.

Duration: 45 minutes

Audio guide available in English, Spanish, Italian and French
Map
Cancellation Policy
All sales are final: tickets cannot be exchanged or money refunded by City Sightseeing.
Supplied by
City Sightseeing Cartagena
International Tourism Group DBA, Av. San Martin No 6 - 50 Local 3