Hop-On Hop-Off Cartagena
Languages

English, Spanish, French, German, Italian, Dutch, Hebrew, Japanese, Chinese, Portuguese, Russian, Polish, Swedish, Finnish, Arabic, Greek, Hungarian, Catalan
Tickets are valid for 3 months. Travelling later?
Click here
Overview
Travel around Cartagena in our London style, open top red buses! Just hop-on at our first destination at Muelle de la Bodeguita, right on the marina. Running daily, this bus tour will take you to 11 beautiful locations. Buy your 48 hour ticket now! All you have to do is sit back, relax and enjoy the beautiful sea view on the open-top bus as it takes you straight to the best destinations of Cartagena!
Highlights
Multilingual audio guide in 18 languages to learn about Cartagena's history & culture
Access to 1 bus tour route & 11 stops around Cartagena covering the entire city & main sights.
48h Unlimited Hop-on Hop-off bus tour with 360-degree panoramic views of Cartagena
Free guided walking tour to the San Felipe Castle and free entry to the Gold Museum
Flexible 3-month ticket so you can use it whenever you wish
Main Stops
2
Pastelillo
Cartagena City Tour
3
Castillo de San Felipe
Cartagena City Tour
Map, Routes & Stops
Map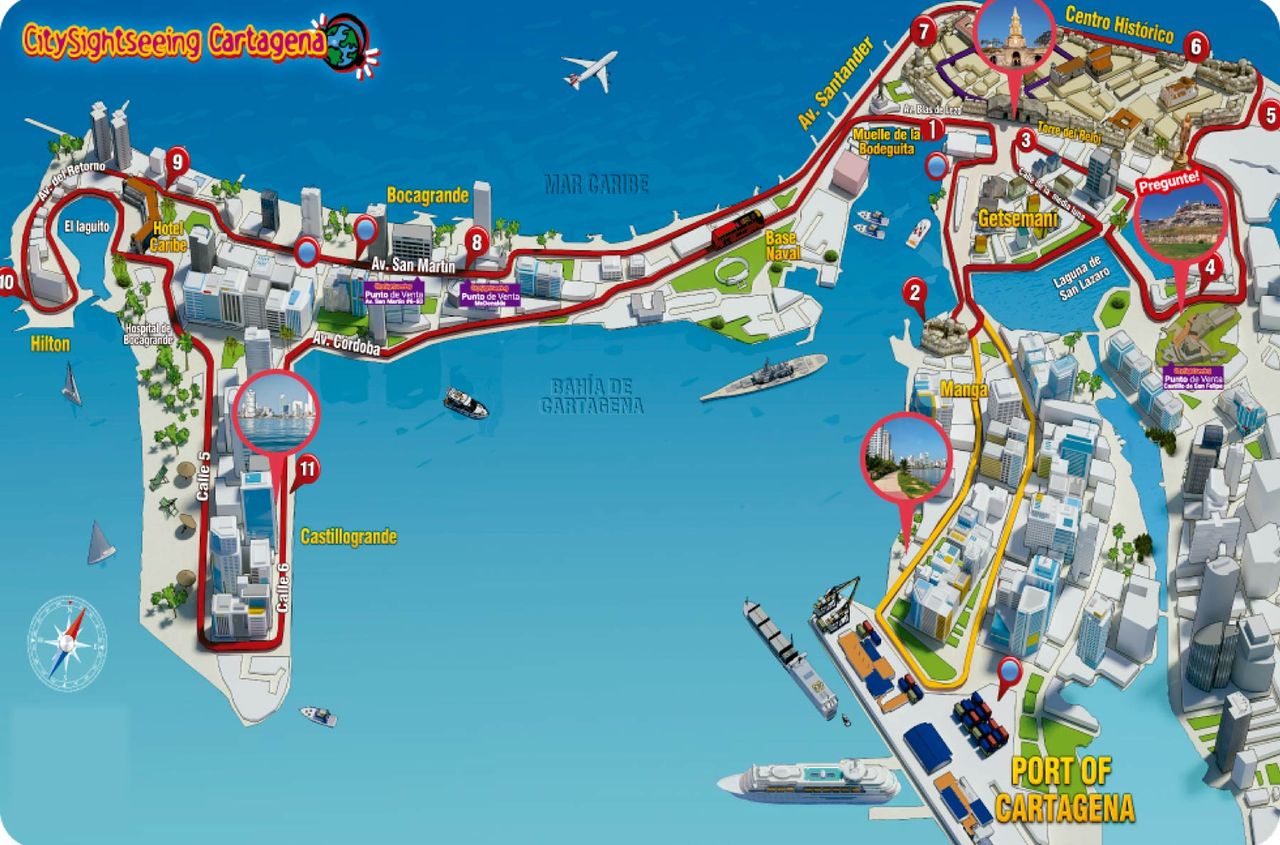 Download
Cartagena City Tour
Schedule: 09:00 - 18:00 Loop: 90 Minutes Frequency: 45 Minutes
5
Boquetillo entrada a la Ciudad Amurallada
6
San Francisco - Ciudad Amurallada
8
Bocagrande Hotel Caribe
10
Cartagena Castillo Grande
Additional Information
Are you ready to experience all the attractions that Cartagena has to offer? Just hop-on the open top bus at Bodeguita Marina and enjoy the sunshine and the fresh smell of sea salt as you make your way to the Pastelillo - the oldest fort in Cartagena. Make sure you hop-off at Bus Stop 3 to take photos of the glorious clock tower, the Torre del Reloj, situated right in the historic centre of the city. If you want to explore the history of Cartagena in more detail then hop-off at the Rafael Núñez at Bus Stop 5 where you'll get an insight into the life of one of Colombia's most memorable ex-presidents.

Fancy a game? We'll take you to the Casino Río where you can immerse yourself into the Colombian culture, sip on a rum and have some fun! One bus stop not to miss is the Walled City of Cartagena. Hop-off the bus tour to take a stroll along the squares or get a bite to eat in one of the bars, it truly is an unforgettable experience! Buy your ticket online no and start planning your way around Cartagena.
Know before you go
Operational Season: All Year Round
First Tour: 09:00 a.m.
Last Tour: 18:00 p.m.
Duration: 90 minutes
Frequency: every 45 minutes
Cancellation policy
All sales are final: tickets cannot be exchanged or money refunded by City Sightseeing.
Supplied by
International Tourism Group DBA CitySightseeing Cartagena
Av.San Martin No 5 - 84 Local 20
undefined, Cartagena, Colombia
Included
Walking Tour with entrance to the museum of gold
Cancellation policy
All sales are final: tickets cannot be exchanged or money refunded by City Sightseeing.
Supplied by
International Tourism Group DBA CitySightseeing Cartagena
Av.San Martin No 5 - 84 Local 20
undefined, Cartagena, Colombia