Hop-On Hop-Off Gothenburg
Product not available
Languages

English, Spanish, French, German, Italian, Swedish, Danish, Norwegian
Tickets are valid for 3 months. Travelling later?
Click here
Overview
We stop at carefully chosen spots including Avenyn, Liseberg, Feskekôrka and 4 other popular sights. You'll be able to create your own itinerary and explore the city at your own pace, while riding comfortably on our double decker buses, learning all about Gothenburg from the commentary at the same time. The full route of this tour takes approximately one hour for the complete loop.
Highlights
Audio-guides in 8 languages so you can learn about Gothenburg's history & traditions.
Access to 1 bus tour route & 23 stops around Gothenburg. Create your itinerary to explore the city.
Ideal tour for visitors arriving from cruises
Add the Tour Boat to the Hop-On Hop-Off bus tour and enjoy panoramic views.
24/72h Unlimited Hop-on Hop-off bus tour with 360° panoramic views of Gothenburg's main sights.
Map, Routes & Stops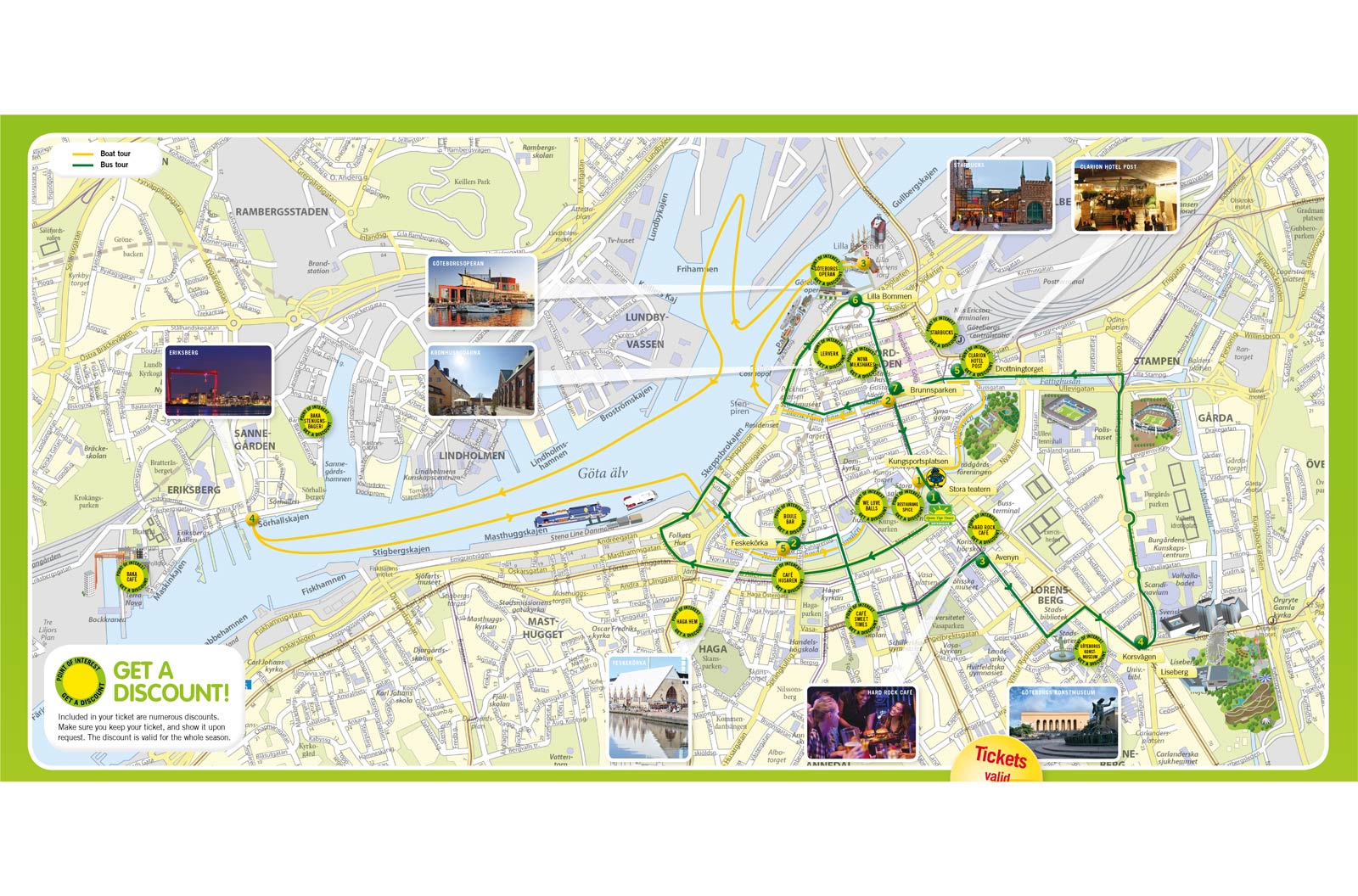 Routes
Main Stops
Feskekörka / Fish market
BUS STOP 2
Brunnparken /Lejontrappan
BUS STOP 7
Additional Information
Are you ready to explore the wonders of Gothenburg? Hop on board our open top buses and travel in style to each and every fabulous attraction. First off, the bus tour begins at the Grand Theatre, also known as the Stora Teatern, an old renaissance style landmark, dating back to the 19th century. Take a look around or even visit a show to really immerse yourself into the city's culture. One of the most famous attractions in Gothenburg has to be the Feskekörka, the gothic-style fish market, located right on the river front. Enjoy the views from up high as our open top bus will take you straight through the heart of the city, down the Avenue, also known as Avenyn. This boulevard is full of life and vibrant energy, a great place to watch the world go by on the bus!

Or for those adrenaline junkies, hop-off at Bus Stop 4 to visit the Liseberg amusement park, one of the best family attraction in Sweeden! If you're lucky enough to visit around Christmas time then you can experience the wonderful Christmas market they hold here and sip on mulled wine until your heart is content! Make sure you hop-off at Bus Stop 6 to visit Lilla Bommen. Here you'll find the harbour where you can go for a nice long stroll and soak up the waterfront view. Last on the recommendations agenda at Bus Stop 7 is the Lejontrappan Brunnsparken, the perfect spot to stop for a picnic! Look out for the famous monument of the Lion too! Get your ticket online today and start enjoying Gothenburg.
Know before you go
Operational Season: 09 January - 17 December
Except on: 18 December – 08 January
First Tour: 11:00 a.m.
Last Tour: 02:00 p.m. (12:00 p.m. Saturdays, 25 Sep - 17 Dec)
Cancellation policy
All sales are final: tickets cannot be exchanged or money refunded by City Sightseeing.
Included
Supplied by
Stromma Buss AB
Frihamnsva?gen 27
115 56, Stockholm, Sweden