Hop-On Hop-Off St. Petersburg Boat
Languages

English, Spanish, French, Italian, Dutch, Japanese, Chinese, Korean, Russian, Finnish, Arabic, Turkish
Overview
Don't fancy a bus tour? No problem! Embark on our St Petersburg Hop-On Hop-Off Boat trip as we'll take you to some of the most wonderful attractions of the city. The boat tour runs between 11:00 a.m.- 19:00 p.m. from April to October and stops off at 6 main stops, all of which are cultural rich destinations. Please note that this trip is separate from the bus tour.
Highlights
Choose to add other options like the 2 Day Bus Tour and get to see every attraction.
1-day Unlimited Hop-on Hop-off boat tour with views of St Petersburg from the water.
Audio-guide in 12 languages so you can learn about St Petersburg's history and traditions.
1 boat tour & 7 stops in St. Petersburg. Create your itinerary & see the city from the Neva River.
Flexible 3-month ticket.
Map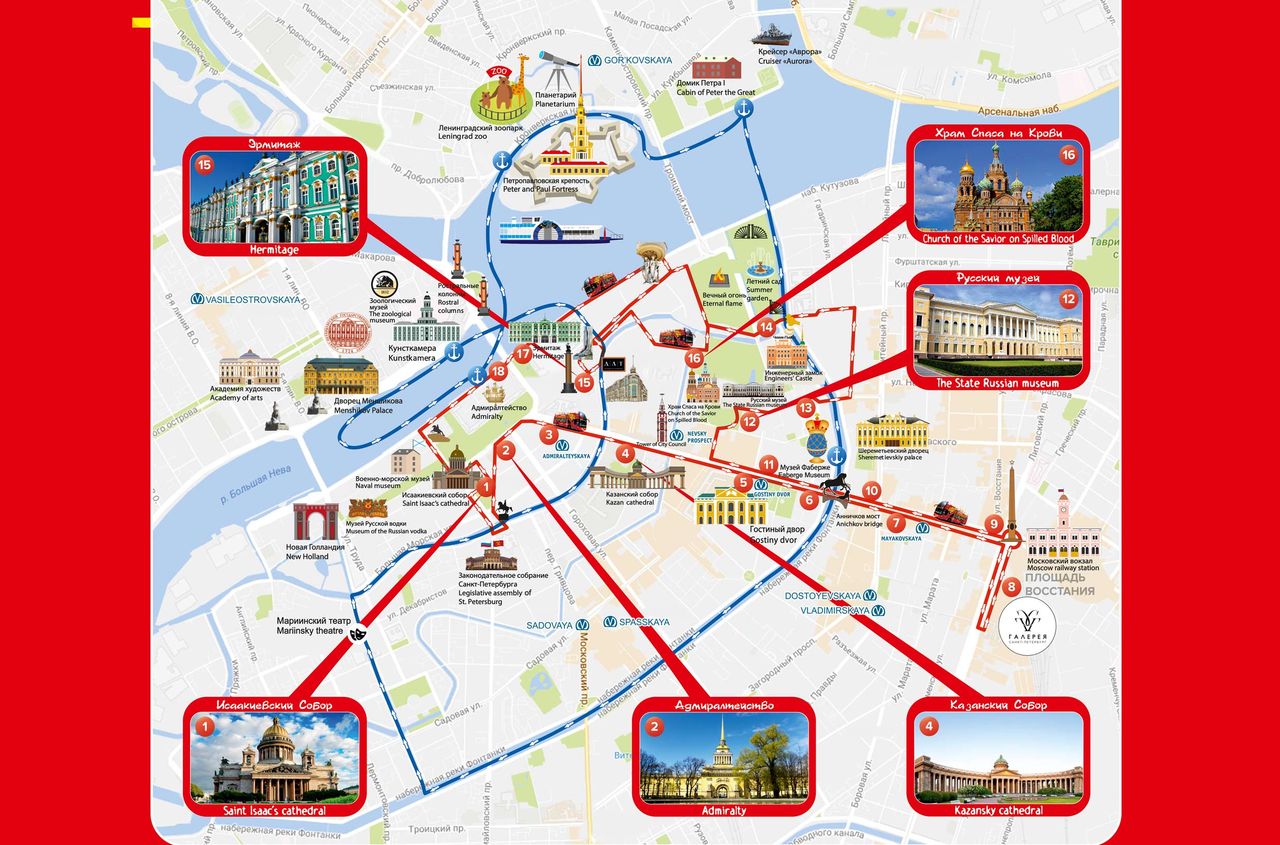 Download
Boat
Schedule: 11:00 - 19:00 Loop: 120 Minutes Frequency: 60 Minutes
2
Peter and Paul Fortress
5
Spit of Vasilievsky Island
Additional Information
Experience the sights from an alternative perspective on board the City Tour canal boat as you ride the 'Golden Ring' of St Petersburg. Cruise down the Neva River and enhance your City Sightseeing experience as you hop on and off at waterside stops in the city.

We'll start the tour at the Admiral Embankment where you'll get a panoramic view of the beautiful St Petersburg. Next up at stop number 2 is the Peter and Paul Fortress, founded by Peter the Great in the early 18th century. Make sure you hop-off at Stop 3 and take a stroll along the Summer Gardens, or if you want to stay on the boat you'll still get a great view of the green surroundings!

Look out for the Bronze Horseman as you cruise down the Neva River, it's a great big statue of Peter the Great riding a horse in the middle of Senate Square.

Be bold and choose to experience St. Petersburg from a whole new perspective! Book your boat tour ticket online today.
Know before you go
Please remember to print your voucher, e-vouchers will not be accepted. Please Note: The Boat Tour is seasonal and runs from May through to the 30th September Only.
Cancellation policy
All sales are final: tickets cannot be exchanged or money refunded by City Sightseeing.
Supplied by
City Sightseeing St. Petersburg
1 Pochtamtskaya Street
undefined, St Petersburg, Russia
Cancellation policy
All sales are final: tickets cannot be exchanged or money refunded by City Sightseeing.
Supplied by
City Sightseeing St. Petersburg
1 Pochtamtskaya Street
undefined, St Petersburg, Russia