Hop-On Hop-Off St. Petersburg
Languages

English, Spanish, French, German, Italian, Japanese, Chinese, Russian, Finnish, Greek
Overview
Are you ready for the ultimate St Petersburg experience? Let City Sightseeing St Petersburg show you around Russia's imperial capital and experience panoramic views of this dazzling metropolis from the top of our famous bright red double-decker buses, hopping on and off at 24 conveniently located stops around the city!
Highlights
2 bus tour routes & 24 stops around St. Petersburg. Create your itinerary to explore the city
2 day unlimited Hop-On Hop-Off Bus Tour with 360° panoramic views of St Petersburg
Audio-guide in 10 languages so you can learn about St Petersburg's history and traditions
Flexible 3-month ticket
Add the Boat Tour to the Hop-On Hop-Off Bus Tour and enjoy the views from the water
Main Stops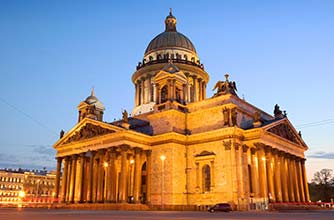 1
St. Isaac's Cathedral
Green Bus Route
17
Palace Embankment
Red Bus Route
Map, Routes & Stops
Map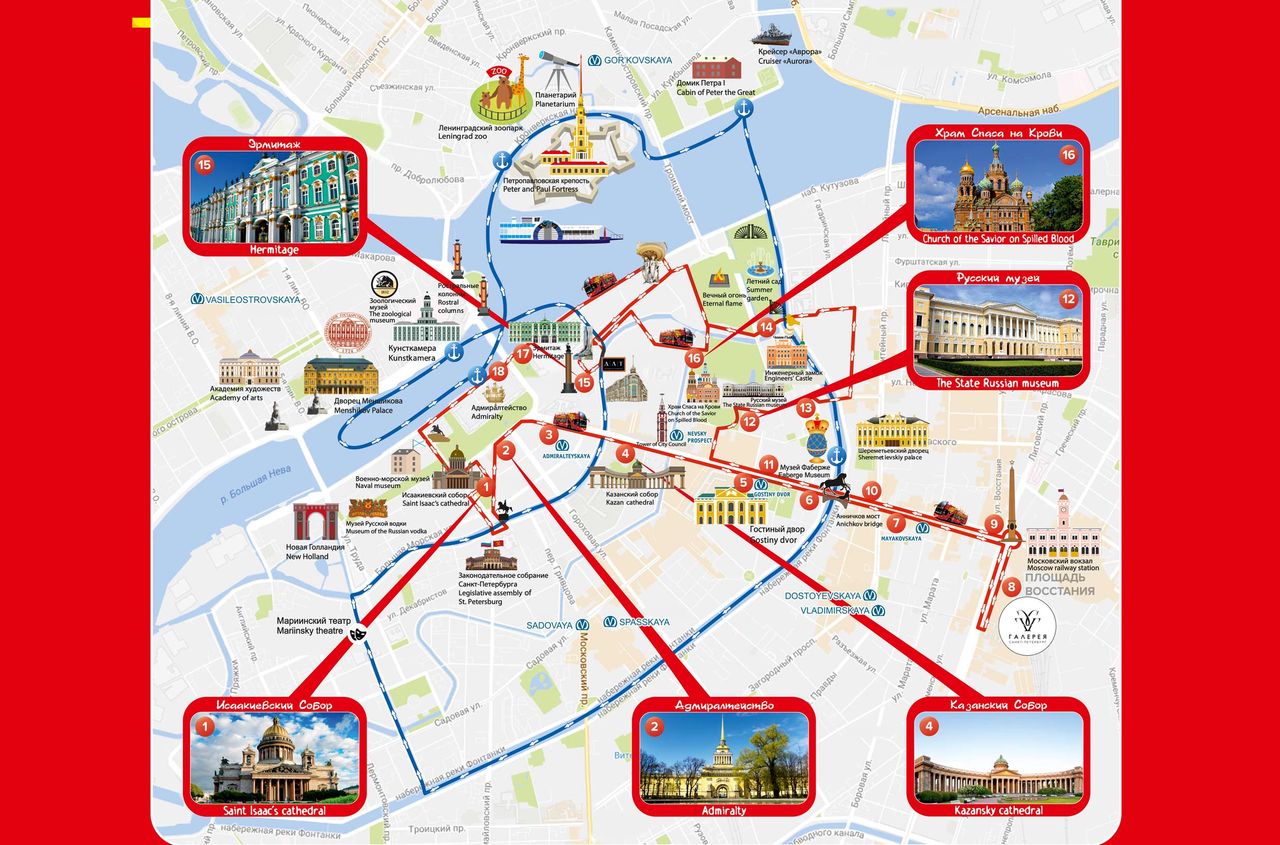 Download
Red Bus Route
Schedule: 09:00 - 19:00 Loop: 90 Minutes Frequency: 25 Minutes
6
Anichkov Palace and Bridge
8
Moscow Railway Terminal
10
Nevsky Avenue / Liteiny Prospect
11
Eliseyev Brothers' Emporium
13
Grand Ciniselli Circus
15
Hermitage/Palace Square
16
Church of the Savior on Spilled Blood
Boat
Schedule: 11:00 - 17:00 Loop: 120 Minutes Frequency: 60 Minutes
2
Peter and Paul Fortress
5
Spit of Vasilyevsky Island
Green Bus Route
Schedule: 09:00 - 19:00 Loop: 60 Minutes Frequency: 30 Minutes
3
Strelka of Vasilievsky Island
4
Peter and Paul Fortress
Additional Information
First up on the agenda is the St Isaac's Cathedral at Bus Stop 1, a magnificent neo-classical style landmark. At Bus Stop 2 (Red Route) you'll come across the Admiralty Building, the headquarters of the Russian Navy. Hop off here and appreciate it's intricate detail and take a wander around the Alexander Gardens nearby.

Palace Square at Bus Stop 3 is right in the heart of St Petersburg. Here you'll see the Alexander Column, a monument built in the early 19th century to remember the Russian military's victory during the war against Napoleon's France. Hop off at Bus Stop 4 to appreciate the stunning, 19th century Kazan Cathedral, a landmark dedicated to Our Lady of Kazan.

If you want to stretch your legs then Bus Stop 6 is the place to do it! You've got the Anichkov Palace nearby and also the Anichkov Bridge where you can take a nice long stroll across and enjoy the peaceful views of the Fontanka River and watch as the boats pass underneath you.

Last but not least are the Summer Gardens, commissioned by Peter the Great. This atmosphere here is truly idyllic as you'll pass some incredible statues and the remarkable water fountain right in the heart of the park.

Plus, you can experience the sights from an alternative perspective on board the City Tour Canal Boat as you ride the 'Golden Ring' of St Petersburg. Cruise down the Neva River and enhance your City Sightseeing experience as you hop on and off at waterside stops in the city. We'll start the tour at the Admiral Embankment where you'll get a panoramic view of the beautiful St Petersburg. Next up at stop number 2 is the Peter and Paul Fortress, founded by Peter the Great in the early 18th century. Look out for the Bronze Horseman as you cruise down the Neva River, it's a great big statue of Peter the Great riding a horse in the middle of Senate Square.

Go ahead and book your ticket online today and let us do the driving! Just relax and enjoy the view.
Know before you go
Bus Tour:
Operational season: all year round
Excluding: 9 May
May - September: first tour: 09:00; last tour: 19:00. No departures between 14:00 and 15:00.
October - April: first tour: 10:00; last tour: 17:30. No departures between 13:00 and 14:00.
Boat Tour:
April - October
First tour: 11:00
Last Tour: 17:00
Cancellation policy
All sales are final: tickets cannot be exchanged or money refunded by City Sightseeing.
Supplied by
City Sightseeing St. Petersburg
1 Pochtamtskaya Street
undefined, St Petersburg, Russia
Cancellation policy
All sales are final: tickets cannot be exchanged or money refunded by City Sightseeing.
Supplied by
City Sightseeing St. Petersburg
1 Pochtamtskaya Street
undefined, St Petersburg, Russia