Hop-On Hop-Off Moscow
Languages

English, Spanish, French, German, Italian, Chinese, Russian, Arabic
Tickets are valid for 3 months. Travelling later?
Click here
Overview
This bus tour starts at Moscow's renowned Bolotnaya Square for both the Red Line and the Green Line. If your time in Moscow is limited then hop-on the Red Line and we'll take you to 18 of the city's best attractions. If you want to spend more time exploring and have purchased the 48 hour ticket tour then you'll be able to hop off at all of the 27 amazing attractions on the Green Line. Go ahead and choose the tour that suits you!
Highlights
Access to 2 bus tour routes & 50 stops around Moscow. Create your own itinerary to explore the city.
1 day/2 days Unlimited Hop-on Hop-off bus tour with 360° panoramic views of Moscow's main sights.
Audio-guide in 13 languages so you can learn all about Moscow's history and traditions.
Choose to add the Boat Tour to the Bus Tour and enjoy panoramic views from the Moskva River.
Add other options like the 48h Tour and get the most of your trip.
Main Stops
12
Taras Shevchenko emb.
Green Route
7
Alexander Garden at Mokhovaya St.
Red Route
Map, Routes & Stops
Map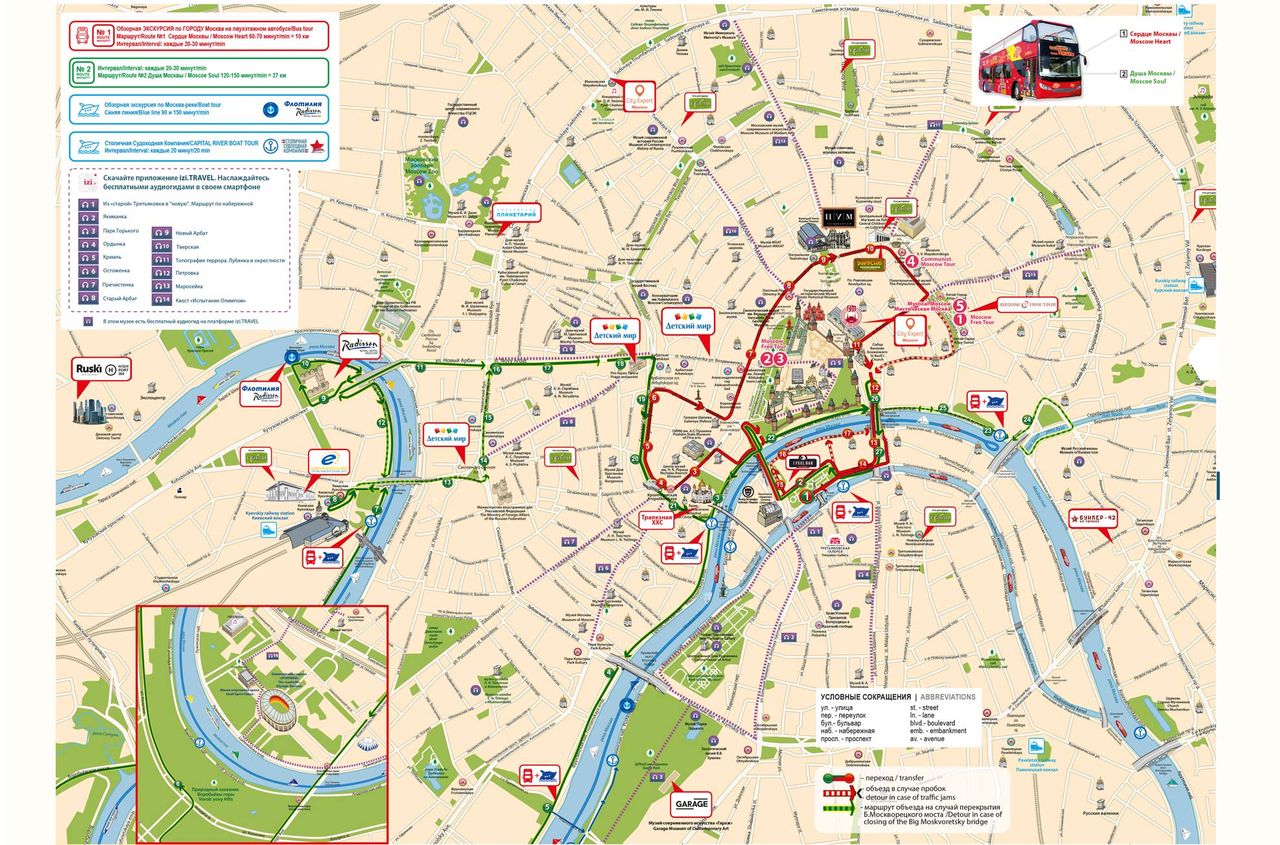 Download
Red Route
Schedule: 10:00 - 18:00 Loop: 60 Minutes Frequency: 20 Minutes
2
Urdarnik cinema at Serfimovich St
3
Pushkin Museum of Fine Arts
4
Kropotkinskaya metro station
7
Alexander Garden at Mokhovaya St.
11
GUM -main universal country's store
13
Big Moskvoretsky bridge
14
Balchug Stat Bolotnaya St.
17
Urdarnik cinema at Sofiyskaya St.
Green Route
Schedule: 10:00 - 18:00 Loop: 120 Minutes Frequency: 40 Minutes
2
Urdarnik cinema at Serfimovich St
3
Cathedral of Christ the Savior
14
Smolenskaya sq. / Old Arbat
15
Smolenskaya metro station
21
Cathedral of Christ the Savior
25
Zaryadye Historical District
27
Big Moskvoretsky bridge
Additional Information
Both Bus Lines start at Bolotnaya Square and take you straight to the Urdarnik cinema on Serfimovich Street, the only cinema in Russia with a telescopic opening roof. On the Red Line, we'll go over the Big Stone Bridge, also known as the Bolshoy Kamenn Bridge, where you'll be able to see the statue of Peter the Great and also the Cathedral of Christ the Saviour.

Visit some of biggest art collections in Russia at the Pushkin State Museum of Fine Arts at Bus Stop 3 or if you prefer being outside then hop-off at Bus Stop 7 and take a stroll around Alexander Garden. One must-see attraction is the Big Moskvoretsky bridge, a concrete arch-like structure which spans the Moscow River, connecting the Red Square and Bolshaya Ordynka Street of Zamoskvorechye. The bridge's architect, Alexey Shchusev, chose pink granite as the facade to make the bridge look as if it were built in real rock.

If you're taking the Green Line, hop-off at Bus Stop 18 to visit the Moscow Book House at where you'll find books for every taste. Make sure you hop-off at the Red Square at Bus Stop 26 too, it's one of the most bursting, vibrant spaces in Moscow. If you want to enlighten yourself with some Russian history then visit the Moscow State Historical Museum nearby, you won't miss it's eye-catching red colour and grand architecture. As you can see, there is something for everyone! Get your ticket online today and start planning your dream trip to Moscow.
Know before you go
Walking Tour: Covers all the main attractions in Moscow: Varvarka Street, Romanovs Chambers, St. Basil's Cathedral, Red Square, Lenin's Mausoleum, The Senate Palace, GUM, Kazan Cathedral, Moscow Hotel from the famous Stolichnaya Vodka cover, The Tomb of the Unknown Soldier, Ruins Grotto, The Kremlin.

Boat Tour (60 minutes, from Tretyakovsky Pier), from 11:00 to 20:00:
The Moscow's Vodootvodny canal was built in 1783-1786 along the central bend of the Moskva River near the Kremlin, with a length of 4 kilometres, width 30 - 50 meters. Together with the Moscow River forms the island Balchug. While traveling through the canal you will be able to see the stunning implementation of engineering: Maly Kamenny (Small Stone) bridge, the First and Second sluice bridges, Small Krasnokholmsky bridge, Zverev bridge, Commissariat bridge and Sadovnichesky bridge.
Along the Vodootvodny canal there are many interesting architectural monuments of the past: factory "Einem", which later became the factory "Red October", Pertsov's commercial apartment building, facilities of the oldest hydro-electric power station in Moscow.
Sailing along Yakimanskaya embankment you will see the head of ce and the industrial buildings former textile factory Golutvino, on Prechistenskaya embankment - Association of manufactures Butikov and the building of the Technical school named after Ermakov. On Soyskaya embankment you'll come across the wonderfully preserved bell tower of the Cathedral of St. Sophia the wisdom of God, along with the former "House of free apartments for widows" of fairy godfathers Bakhrushins brothers and many other interesting sights!
Cancellation policy
All sales are final: tickets cannot be exchanged or money refunded by City Sightseeing.
Supplied by
City Sightseeing Moscow
18 1 Bolotnaya Street, Office 120
undefined, Moscow, Russia
Included
Free Walking Tour, which covers all the main attractions in Moscow
Cancellation policy
All sales are final: tickets cannot be exchanged or money refunded by City Sightseeing.
Supplied by
City Sightseeing Moscow
18 1 Bolotnaya Street, Office 120
undefined, Moscow, Russia