Hop-On Hop-Off Bus Seville - Iconic Ticket
warning
Please note that face masks must be worn on board the bus.
schedule add
from
10:00
to
20:00
Highlights
Mobile redemption! Simply show your voucher on your smartphone to join the tour at any of the stops
Audio commentaries in 16 languages, so you can discover Seville's culture & history
Flexible 12-month ticket to be used whenever you wish
Create your own itinerary across 1 bus tour route & 14 stops around Seville
Free walking tours to discover the most important places in the city
24hr Hop-On Hop-Off Bus Tour with 360º panoramic views of Seville's top sights
Main Stops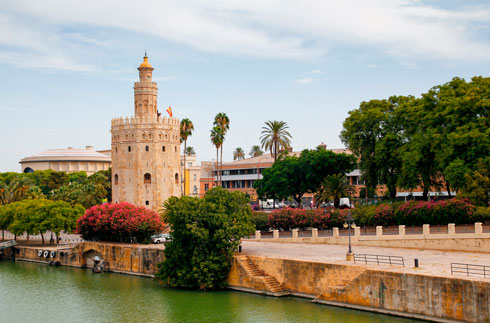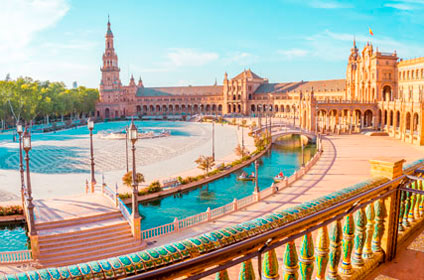 2
Plaza de España
Red Route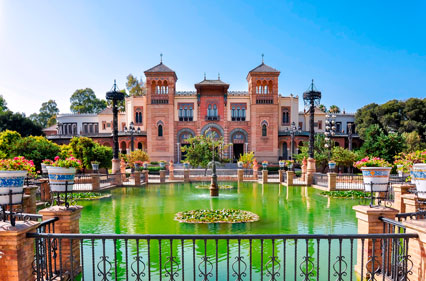 4
Plaza de América
Red Route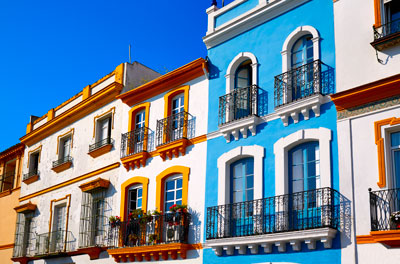 6
Triana: San Jacinto
Red Route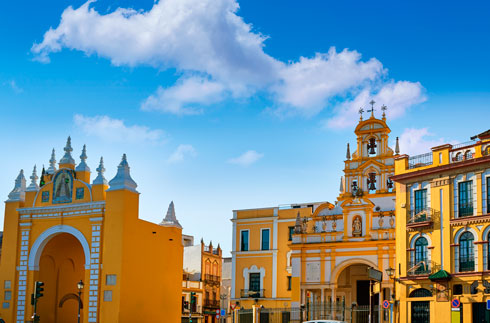 Included
24hr hop-on hop-off bus tour
Stops near all the major sights
Audio guide in 16 languages
Full hygiene measures
Two guided walking tours
Entrance to various attractions including the Pabellón de la Navegación
Half-hour bike rental
Entrance to Seville Aquarium
Tours of the Betis and Seville stadiums
Entrance to the Flamenco Dance Museum
Description
Are you ready to enjoy this wonderful city from an open top double-decker bus perspective? The Seville adventure begins at Paseo de Colón. One of the most beautiful parts of the city, this walkway is a must see! Next up is the Plaza de España - a spectacle that looks incredible all year round. Hop off and appreciate the semi-elliptical shape of the plaza, which symbolises Spain embracing its former American territories.

The 3rd bus stop is the Seville Aquarium, a sensational aquarium well worth a visit! Hop back on the bus to head down towards 2 more beautiful plazas at bus stops 4 and 5. Plaza de America is yet another opportunity to appreciate the architecture of the city, and take in the local scenery. There are brilliant museums nearby to the plaza, great for people of all ages as you can play in the plaza or mooch around the museum.

The bus tour then heads towards Triana, which was the centre of the local ceramics industry. After Triana, the tour bus passes the Universal Exposition, before heading to the 'Isla Magica' theme park with an aqua park on the side. Built on a old fort with a lake in the middle, this unique area is full of fun.

Hop back on as the tour passes Macarena and the tower Torre de los Perdigones, where there are fantastic views of the river and Seville. The tour continues down to 2 more plazas - Plaza de Armas and Plaza del Duque - and then back to where this fun-packed journey of Seville began, at Paseo de Colón.

Book your ticket online today and start dreaming about Seville!
Before you Go
Free entry
Iglesia del Salvador (Monday to Saturday 10:00 – 17.30 / Sunday 15:00 – 19:00.)
Hospital de la Caridad (Monday to Friday: 10:30-14:00 and 15:00-18:30, Saturdays: 14:00-18:30, Sundays: 14:00-18:30. If a wedding is planned on a specific date, the Hospital de la Caridad is closed to the public. Please contact the Hospital to check).
Iglesia Santa Ana (Monday to Thursday from 10:30 to 13:30 and 16.30 to 19:00 / Fridays 11:00 to 13.30 and 16.30 to 19:00)
Pabellón de la Navegación: Tuesday to Saturday from 10:00 to 19:30. Sundays from 10:00 to 15:00. Mondays: closed.
Discounts
20% discount at Plaza de Toros de la Real Maestranza (Museum)
Free Coke at Hard Rock Café Seville (from 12:00 to 13:00)
La Canasta: tortilla + drink 2.95€
Mercado del Barranco: free drink
Ta'kool Mexican: Taco + drink 3.00€
10% discount at the Museum of Illusions
Walking tours Limited places available. Please arrive 15 minutes before the start of the activity.
Santa Cruz: at 13.30 from stop 1
Plaza España: at 12.00 from stop 2
Please check current opening hours for these attractions on their websites.
Map
Cancellation Policy
Free cancellation up to 24 hours before the chosen travel date.