Hop-On Hop-Off Seville
On the morning of February 25th, due to the Seville Marathon taking place in the city, the tour will be unable to operate. The first tour on this day will instead run from Stop 1, Torre del Oro, at 3:00pm.
Languages

English, Spanish, French, German, Italian, Dutch, Hebrew, Japanese, Chinese, Portuguese, Russian, Swedish, Arabic, Greek, Turkish, Catalan, Kids Commentary
Tickets are valid for 3 months. Travelling later?
Click here
Overview
Hop on board one of our bright red buses to see the best of Seville - the artistic, cultural, and financial capital of southern Spain. You will not be short of things to do in this beautiful city! With 14 Bus Stops around this historical masterpiece of a city, you will see so much from prestigious Islamic monuments, to gardens and Flamenco festivals. Sit back and enjoy the panoramic view from the open top bus, and hop on and off at your convenience! Check out the 4 Walking Tours, to find out even more about Seville: - Spanish Square and Maria Luisa Park Tour, Santa Cruz Quarter Tour, the Triana Tour and the Fine Arts Museum Tour.
Highlights
24h/48h unlimited Hop-on Hop-off bus tour with 360-degree panoramic views of Seville's top sights
Audio commentaries in 15 languages, so you can discover Seville's culture & history.
The 'Seville Experience' combo includes 4 Walking Tours and tickets to 3 museums
Create your own itinerary across 1 bus tour route & 14 stops around Seville.
Flexible 3-month ticket to be used whenever you wish
Main Stops
1
Torre del Oro
City Sightseeing Sevilla
13
Plaza del Duque
City Sightseeing Sevilla
2
Plaza de España
City Sightseeing Sevilla
Map, Routes & Stops
Map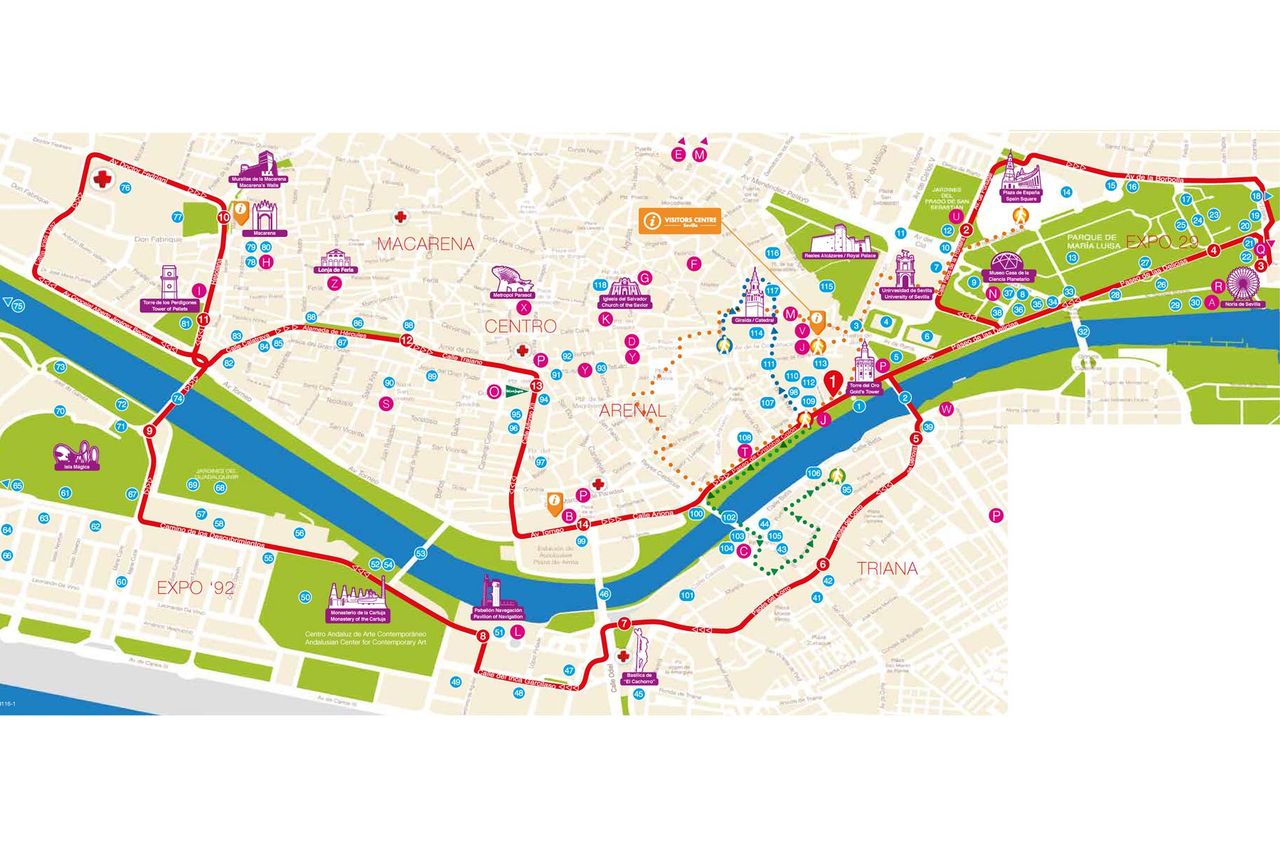 Download
City Sightseeing Sevilla
Schedule: 10:00 - 20:00 Loop: 75 Minutes Frequency: 30 Minutes
11
Torre de los Perdigones
Additional Information
Are you ready to enjoy this wonderful city from the perspective of an open top double-decker bus? The Seville adventure begins at Paseo de Colón. One of the most beautiful parts of the city, this walkway is a must see! Next up is the Plaza de España - an enchanting square that looks incredible all year round. Hop-off and appreciate the semi-elliptical shape of the plaza, which symbolises Spain embracing its former American territories.

The 3rd Bus Stop is the 'Acuario de Sevilla' - a sensational aquarium well worth a visit! Hop back on the bus to head down towards two more beautiful plazas at Bus Stops 4 and 5. Plaza de America is yet another opportunity to appreciate the architecture of the city, and take in the local scenery. There are brilliant museums nearby to the plaza, so it can cater for people of all ages whether you want to play in the plaza or mooch around the museum.

The bus tour then heads towards Triana - where there is a great Guided Walking Tour. Explore the lovely park where you can find some of the best tapas in the city. After Triana the tour continues down to 2 more plazas - Plaza de Armas and Plaza del Duque. The 11th Bus Stop is the Torre de los Perdigones, where there are fantastic views of the river and Seville. Hop back on as the tour passes Macarena (Bus Stop 12) and heads to the 'Isla Magica' - a nice little theme park with an aqua park on the side. Built on an old fort with a lake in the middle, this unique area is full of fun.

The tour bus passes the 'Exposición Universal', before heading back to where this fun-packed journey of Seville began, at Paseo de Colon. Book your ticket online today and start dreaming about Seville!
Know before you go
Operational Season: All Year Round
First Tour: 10:00 a.m.
Last Tour: 08:00 p.m.
Duration: 75 minutes
Frequency: every 30 minutes

Walking Tours:
- Spanish Square and Maria Luisa Park (1 hour): 12:00 p.m., from stop number 2. A one hour tour with an official guide in English / or Spanish across one of the most important constructions of the city.
- Santa Cruz Quarter (1 hour): 1:30 p.m., from stop number 1. The former Jewish quarter is the oldest and most charming neighbourhood of Seville.
- Triana (1 hour): 5.30 p.m from stop number 1. One of the most typical quarters of the city, the streets where flamenco was born and where most of the toreros live.
- Fine Arts Museum: (1 hour): 10:00 am from stop number 13. Enjoy the Fine Arts Museum with our guide. Unavailable Sunday afternoon & Monday.
Cancellation policy
All sales are final: tickets cannot be exchanged or money refunded by City Sightseeing.
Supplied by
City Sightseeing Sevilla
Calle Jaén 2, 1º
41001, Seville, Spain
Included
4 Free guided walking tours
Free entry to Pabellón de la Navegación
Free entry to Museo de los Carruajes
Free entry to Hospital de la Caridad
Free entry to Santa Ana Church
Free entry to Iglesia del Divino Salvador
Free entry to Casa de las Ciencias
Free entry to Torre de los Perdigones (13:00-15:00)
Free entry to Museo del Baile Flamenco (Museum only) *Experience Premium
Free entry to the Aquarium *Experience Premium
Free entry to Betis Tour: 12:00 & 17:00, Saturdays only 12:00. (Unavailable on game days)*Experience Premium
Free cava glass on Baños Árabes when you buy a service *Experience Premium
Discounts:

Costa Coffee: 2x1
Hard Rock Café: Free Coffee
Betis Tour: 10%
Museo del Baile Flamenco: 2€ discount (normal and intimate)
Lonja de Feria: Free drink with the first tapa
Iguanas Ranas: 1 Free Margarita
Baños Árabes: Aire de Sevilla 10% discount
Cancellation policy
All sales are final: tickets cannot be exchanged or money refunded by City Sightseeing.
Supplied by
City Sightseeing Sevilla
Calle Jaén 2, 1º
41001, Seville, Spain