workspace_premium World's Leading Hop-On Hop-Off Company
local_activity Free Cancellation
calendar_month Flexible vouchers: Valid for 12 months




Seville Supreme Experience: 48hrs Tour Bus + 4 Guided Walking Tours + Stadiums Visit and more!
warning
AIRE Ancient Baths Sevilla are closed from June 2nd to July 5th. We apologise for the inconvenience.
schedule add
from
10:00
to
22:00
Highlights
Flexible 12-month ticket to be used whenever you wish
Audio commentaries in 16 different languages
48hr Hop-On Hop-Off Bus Tour to see the city's highlights
Loads of added extras to help make the most of your time in Seville
No need to print your ticket. Use your mobile and make life easier.
Main Stops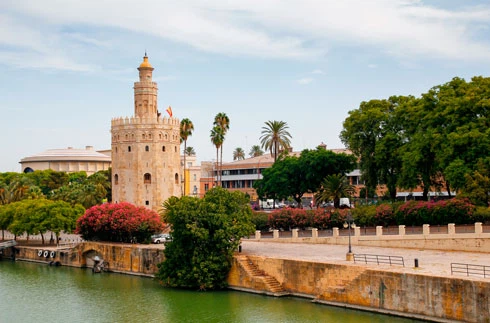 2
Plaza de España
Red Route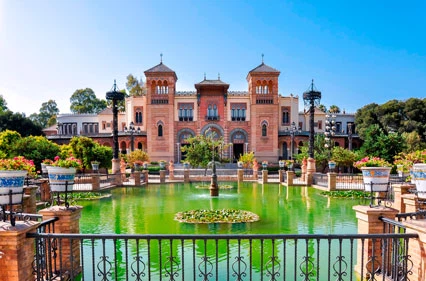 4
Plaza de América
Red Route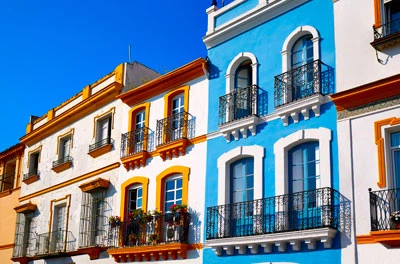 6
Triana: San Jacinto
Red Route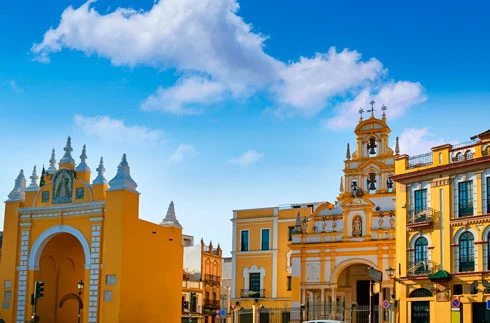 Included
48hr hop-on hop-off bus tour
Stops near all the major sights
Audio guide in 16 languages
Four guided walking tours
Entrance to various attractions including the Pabellón de la Navegación
Half-hour bike rental
Tours of the Betis and Seville stadiums
Description
Seville is a place like no other. Centuries of incredible history have shaped the stunning city that you can see today. From the still-standing Roman walls to the incredible medieval Gothic cathedral, right up to the enormous futuristic Setas, it's a city that confidently wears its beauty on its sleeve. So, hop on the bus and get ready to discover the wonders of this wonderful destination.

There are so many sights in this city that will take your breath away. Plaza de España is definitely one of them. Hop off there and you'll be able to explore this architectural treasure, which was built for the 1929 Iberoamerican Exposition and has featured in films from "Lawrence of Arabia" to one of the Star Wars movies. Another place not to miss is the spectacular cathedral, which is one of the largest religious buildings in the world. Parts of it are over a thousand years old and its world-famous tower, the Giralda, used to be the minaret of the mosque when the city was under Muslim rule

With 48 hours to use your bus ticket, you'll have plenty of time to explore. You'll also be able to enjoy our four included guided walking tours that will help you learn more about different aspects of the city's history and its present. One of our favourites (though they're all brilliant) is the Triana tour, on which you can describe the atmospheric, traditional neighbourhood that sits across the river from the historic centre.

You can also visit some of the city's most important monuments, such as Iglesia Santa Ana, and the Museo de la Macarena, which is dedicated to the history of the famous church rather than the dance! The Museo del Baile Flamenco is a fascinating place, where you can learn all about flamenco dancing and the music that accompanies it. What could be more Spanish?

And remember, you've also got some great discounts to help you make the most of your time in the city and enjoy some of its other leading attractions. Book today and start planning the memories you'll make with us in Seville!
Before you Go
Walking tours
Limited places available. Please arrive 15 minutes before the start of the activity.
Barrio de Santa Cruz 13:30 from stop 1.
Plaza de España. 12:00 from stop 2.
Sevilla Imperial: 17:30, from stop 1
Triana. 19:00, from stop 1
Free entry.
30-minute bike rental at Bike Center Sevilla (Opening hours: 09:00 to 21:00). Rental from 12:00-17:00 (only adults)
Iglesia del Salvador
Hospital de la Caridad (Monday to Friday: 10:30-14:00 and 15:00-18:30, Saturdays: 14:00-18:30, Sundays: 14:00-18:30. If a wedding is planned on a specific date, the Hospital de la Caridad is closed to the public. Please contact the Hospital to check).
Iglesia Santa Ana (Monday to Thursday from 10:30 to 13:30 and 16.30 to 19:00 / Fridays 11:00 to 13.30 and 16.30 to 19:00). Summer timetable: 1 June – 21 July: Monday - Friday (10:00 - 13:30). Closed in the afternoons. 1 – 31 August: Closed.
Macarena Museum
Betis Tour Experience (Reservation required)
SFC Stadium Tour- Opening times: Thursday: 17:00 to 21:00 (last entrance 19:30). Fridays, Saturdays and Sundays: 11:00 to 15:00 (last entrance 13:30) and 17:00 to 21:00 (last entrance 19:30).
Pabellón de la Navegación Opening Hours: Tuesday to Saturday: 10:00 - 19:30 , Sunday: 10:00 - 15:00 , Monday: closed
Pabellón de la Navegación Tower Opening Hours (on available days): Tuesday to Saturday from 10:30 to 13:00 and from 16:30 to 18:30., Sundays and days with Sunday opening hours from 10:30 to 14:00.
Discounts
20% discount at Plaza de Toros de la Real Maestranza (Museum)
Free Coke at Hard Rock Café Seville (from 12:00 to 15:00)
La Canasta: tortilla + drink 2.95€
Mercado del Barranco: free drink
Ta'kool Mexican: Taco + drink 3.00€
10% discount at the Museum of Illusions
Iguanas Ranas: free Margarita when ordering another drink
AIRE Ancient Baths Sevilla: 15% discount (please, ask schedules and treatments included).
Please check current opening hours for these attractions on their websites.
Satisfied Customers
Good tour with very useful transportation and tour information.
Some seats on the buses had broken headphone sockets, meaning we had to move seats frequently.
Map
Cancellation Policy
Free cancellation up to 24 hours before the chosen travel date.